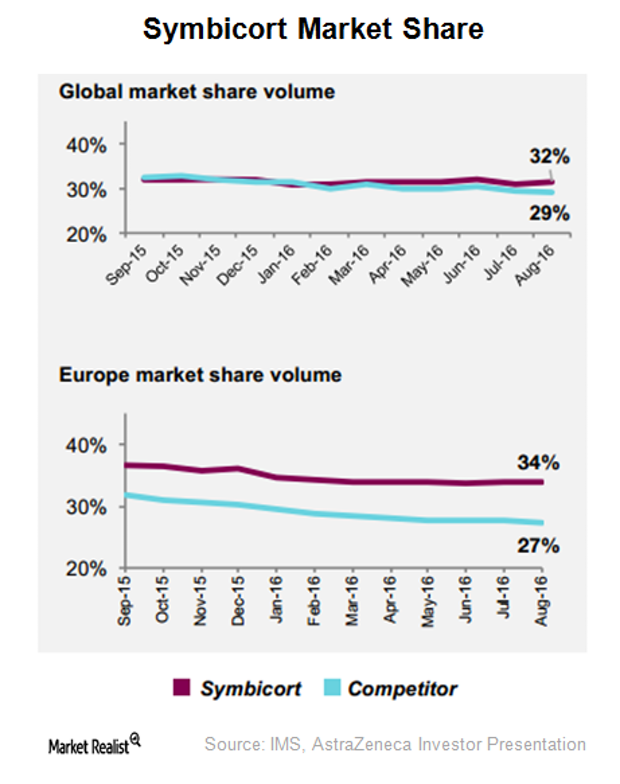 AstraZeneca's Symbicort: Dominant Player in Inhaler Segment
By Margaret Patrick

Mar. 1 2017, Updated 10:36 a.m. ET
ICS-LABA combination inhaler
In 2016, AstraZeneca's (AZN) Symbicort reported revenues close to $3.0 billion, which is a YoY (year-over-year) fall of about 10.0% on a CER (constant exchange rate) basis. The fall can be attributed mainly to more pricing pressures imposed by managed care organizations on ICS (inhaled corticosteroid) and LABA (long-acting beta agonists) classes of drugs. ICS-LABA combination inhalers are also witnessing increased competition from other classes of drugs, especially those in the COPD (chronic obstructive pulmonary disease) segment.
Article continues below advertisement
Despite these headwinds, in 2016, Symbicort maintained its global volume share leadership in the ICS-LABA combination inhaler segment. If Symbicort can continue to withstand competitive and pricing pressures in 2017, it may have a positive impact on AstraZeneca stock as well as the Vanguard Total International Stock ETF (VXUS). AstraZeneca makes up about 0.16% of VXUS's total portfolio holdings.
The above graphs show the volume share of Symbicort on a global basis as well as in Europe. AstraZeneca expects increased pricing pressures for Symbicort in the first half of 2017. Symbicort continues to face stiff competition from other respiratory players such as GlaxoSmithKline (GSK), Merck & Co. (MRK), and Novartis (NVS).
International markets
In 2016, Symbicort's revenues from Europe fell about 12.0% YoY. Revenues rose about 10.0% in emerging markets. Symbicort revenues from China rose about 32.0% in 2016.
Another respiratory drug
AstraZeneca's Pulmicort has seen a robust demand from emerging markets. The company is currently a leading player in the respiratory segment in emerging markets. In 2016, Pulmicort reported revenues of around $1.0 billion, which is a YoY rise of about 8.0% on a CER basis.