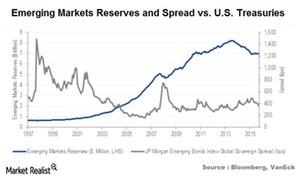 Structural Reforms Have Strengthened Emerging Markets
By VanEck

Feb. 16 2017, Updated 1:12 p.m. ET
VanEck
Structural Reforms Have Strengthened Emerging Markets
In response to the crises of the 1980s and 1990s, many countries adopted floating exchange rates, pursued structural reforms to enhance fiscal discipline, and increased local currency debt issuance to help reduce the vulnerability of their economies to external shocks. For many emerging markets countries, taken together, these reforms have increased foreign currency reserves and also resulted in secular reductions in borrowing costs.
Article continues below advertisement
Since the greater adoption of flexible exchange rates, the ability and willingness of emerging markets central banks to use them as shock absorbers has been tested several times. The financial crisis of 2008 and European debt crisis thereafter provided significant tests for the new emerging markets model of lower external debt, higher reserves, and greater fiscal flexibility. In both cases, central banks took swift action to insulate their economies without depleting reserves to dangerous levels. The more recent "taper tantrum" of 2013 demonstrated that policymakers in many countries were willing to tolerate weaker currencies and higher interest rates in order to maintain stable reserves and control inflation.
In summary, the fiscal stability of emerging markets has increased considerably in the past 20 years. Exchange rate flexibility along with higher reserves and healthier fiscal positions have allowed emerging markets economies to avoid a repeat of earlier crises, maintain market access, and help boost investor confidence.
Article continues below advertisement
Market Realist
Emerging markets expected to grow at a healthy rate
In the graph below, you can see the expected GDP growth rate for emerging as well as developed nations around the world. Many emerging markets (EMLC) (HYEM) are expected to grow at a healthy rate. Even Brazil is expected to return to growth after two years of recession. Developed markets, however, are still growing at a tepid rate.
According to a recent BofA (Bank of America) Merrill Lynch Global Investment strategy report, emerging markets (EMB) (PCY) are expected to grow at a modest pace of 4.7% in 2017, which is a rise from 4.1%. That's better than the United States and the rest of the developed nations (ACWI). India is expected to lead, with GDP rising 7.6%. China's bellwether economy is expected to rise 6.6%.
Overall, the report expects emerging Asia and EEMEA (Eastern Europe, the Middle East, and Africa) to rise 6.2% and 1.9%, respectively. Latin America is expected to rebound with a rise of 1.5% after falling in 2016. US rates will likely cast a shadow on emerging markets' debts, with returns of about 2.6% for external debt and 0.70% for local debt.
The report also expects Mexico and China to be in the spotlight as potential trade and currency wars keep investors on edge. But Mexico could be the surprise beneficiary of increased US infrastructure spending.
Commodities are adding to emerging market rally
Perhaps one of the biggest tailwinds, particularly for local currency strategies, was the stabilization and rebound in commodity prices in 2016. The cyclical uptick in global economic activities is expected to drive demand for oil as well as other commodities in 2017. According to Goldman Sachs Group, "Commodities will be supported in the months ahead by a global rebound spanning the U.S., Europe and China that's buttressing worldwide demand for raw materials."
In the next part of this series, we'll see how emerging market ratings have performed to date.