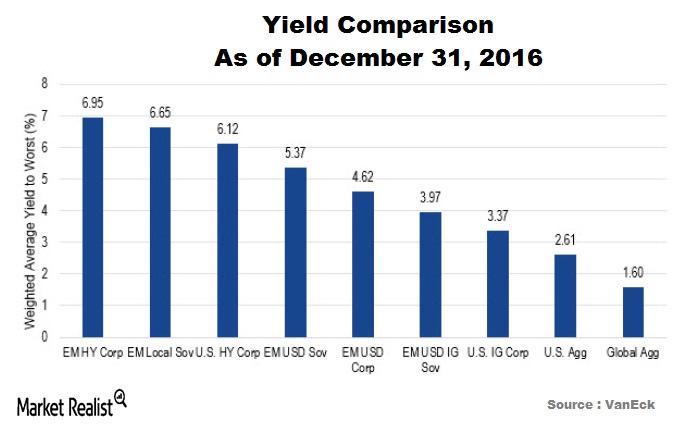 Investment Rationale for Emerging Market Bonds in 2017
VanEck
Emerging Markets Bonds Can Boost Income Producing Potential
For income oriented investors, emerging markets bonds may also boost a portfolio's income producing potential. As discussed in previous posts, this yield pickup may be attractive in absolute terms, particularly in light of the improving fundamentals within emerging markets corporates, and in relative terms when compared to their developed markets counterparts.
Overall, allocations to the various sectors of emerging markets bonds have historically provided investors the opportunity to enhance yield and diversification within a diversified portfolio. However, investors should keep in mind that there is significant diversity within emerging markets bonds. Each country has a unique economy with differing policies and social and political structures which can impact long-term investor returns. Although an analysis of the characteristics of each emerging markets bonds sector is beyond the scope of this blog, each is affected differently by shifts in interest rates (U.S. and local), currencies, and credit spreads. As a result, each sector may exhibit very different risk and return profiles over a given time period. Investors may not realize the full benefits of emerging markets bonds with exposure to only one of these sectors.
Article continues below advertisement
A Strong Investment Rationale for Emerging Markets Bonds
At VanEck, we believe the long-term investment rationale for emerging markets bonds remains strong as the asset class continues to grow in both size and diversity. Over the past several decades, emerging markets economies have evolved and are today characterized by more dynamic and less vulnerable economies. Economic growth, although slowed by recent headwinds, has remained higher than in developed markets and is expected to increase.
We believe emerging markets debt will remain attractive for income-seeking investors, who may benefit from the yields the asset class can potentially provide, as well as supportive fundamentals and global monetary policies. Investors must balance the potential yield achieved with the additional risks associated with these investments, such as foreign exchange rate or political risk. However, with generally low allocations to emerging markets bonds in many global bond funds, we believe this asset class warrants a strategic allocation given the unique characteristics and opportunities it can offer.
Article continues below advertisement
Market Realist
Emerging markets continue to attract investors
Emerging markets (EMB) (EMAG) (IGEM) have done well this year and should continue to attract investor interest around the globe. Latin America is leading year-to-date. Investors have expressed confidence, specifically in Brazilian equities, that reform measures will help the country in 2017.
Russia has also been doing well, primarily due to the rise in crude oil prices. India has seen moderate inflows since investors are playing wait and watch over how demonetization turns out.
With reflation expected to be the theme for 2017, China is expected to benefit from its export prudence. According to BlackRock, developed market reflation should reinforce the China–emerging market upswing.
The only downside going forward could be how Donald Trump's protectionist measures pan out. According to the IIF (Institute of International Finance), "The global economic outlook remains very uncertain, with an almost binary outcome likely to be determined by the severity of the protectionist measures to be introduced by the new Trump administration and the outcome of the French presidential election."
The IIF expects emerging markets, excluding outflow from China, to witness inflows amounting to $70.0 billion. That's nearly twice the quantum seen in 2016. However, the IIF is cautious about these inflows.
Hung Tran, IIF's executive managing director, said, "While we project a slight uptick in capital flows in 2017, policy risks and potential deterioration in the global environment makes us cautious."