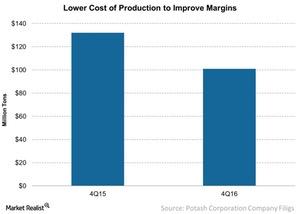 Potash Producers Have Executed This Strategy to Maintain Margins
By Adam Jones

Updated
Margin improvement
With potash prices falling, producers have taken preemptive steps to safeguard their future margins. Cost optimization was a common theme that emerged in the earnings calls of fertilizer companies.
Article continues below advertisement
Lowering production costs
Companies such as PotashCorp (POT), The Mosaic Company (MOS), Intrepid Potash (IPI), and Agrium (AGU) have worked to optimize their costs of production to counter falling potash prices. If we say that the bottom cycle of the industry is behind us, then a lower cost of production coupled with expectations of rising demand and rising fertilizer prices may translate into margin improvements.
This may be why the fertilizer stocks (SPY) (SPX-INDEX) have gained momentum, as the outlook appears favorable for an upswing. The cost per ton of potash for PotashCorp in 4Q16 fell to $101 from $132 a year earlier.
Some concerns remain
Volatility in foreign exchange remains a concern for potash producers. Strength in the US dollar in comparison with the Brazilian real, Canadian dollar, and other major market currencies must be tracked carefully, as a strengthening US dollar will negatively impact margins.
In its 4Q16 earnings results, PotashCorp pointed out that the recent demonetization drive in India could prove uncertain for foreign exchange and may also affect demand in India. 
In a nutshell, the demonetization drive was announced in November 2016, and it invalidated high denomination currency notes within the country to penalize tax evaders. In India, where a majority of transactions take place in cash, fertilizer uptake will likely be impacted in 2017.