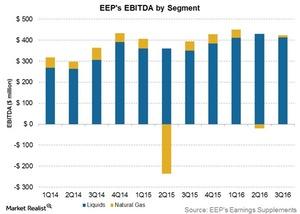 EEP's Segments in 4Q16: Which Contributed the Most to Earnings Growth?
EEP's Liquids segment
Enbridge Energy Partners (EEP) carries out its operations through two reportable segments: Liquids and Natural Gas. Excluding an asset impairment charge, Enbridge Energy Partners' Liquids segment contributed ~98% to the company's total EBITDA (earnings before interest, tax, depreciation, and amortization) in 3Q16.
Mark Maki, the partnership's president, stated in the 3Q16 earnings release: "With seasonal refinery turnarounds largely complete, deliveries are expected to remain strong through the end of the year with our heavy crude oil lines continuing to be oversubscribed."
Article continues below advertisement
The Liquids segment transports crude oil and natural gas liquids from reserves. The segment generates revenue on the basis of rates charged per barrel to gather, transport, or ship the crude oil or liquid petroleum. The above graph shows Enbridge Energy Partners' segmental contributions to its EBITDA since the beginning of 2014.
Natural Gas segment
As the above graph shows, the contribution of the Natural Gas segment to EEP's EBITDA has been relatively lower. The Natural Gas segment contributed only 2% to EEP's 3Q16 EBITDA. Enbridge Energy Partners' natural gas assets are owned by Midcoast Energy Partners (MEP).
On January 27, 2017, Enbridge (ENB) announced that it will acquire all the outstanding publicly held common shares of MEP. The public interest to be acquired by Enbridge represents a ~25.0% effective interest in Enbridge Energy Partners' natural gas gathering and processing business. Enbridge Energy Partners is considering "the sale of a portion or all of its remaining interests in the natural gas gathering and processing assets, including to ENB."
The Natural Gas segment's revenue is derived from the fees charged from the customers or commodities received in the exchange of services given in connection with the sale or transport of natural gas. The segment's volumes have been decreasing primarily due to the continued low commodity price environment, which has resulted in reductions in drilling activity from producers in Enbridge Energy Partners' areas of operations.