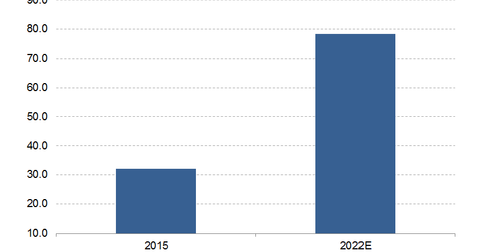 Prospects of Amazon's Echo Device in the Spotlight
By Neha Gupta

Updated
Third-party data show Echo is outselling rivals
Although Amazon (AMZN) doesn't disclose Echo sales, third-party data show the device is outselling rivals in the home automation segment. Forrester Research estimates Amazon sold 6 million units of Echo by the end of 2016, while Consumer Intelligence Research Partners (or CIRP) provides a higher estimate of 8.2 million units by the end of last year.
The market for home automation systems is expected to be worth $78.3 billion by 2022. The market was valued at $32.1 billion in 2015, according to MarketsandMarkets.
Article continues below advertisement
How long can Echo dominate the home automation space?
The Echo device is available in three versions, Amazon Echo, Echo Tap, and Echo Dot with prices ranging from $50 to $180.
Echo may have enjoyed more than a year of little or no competition, but the market for home automation systems is rapidly heating up with Alphabet (GOOGL) and others seeking to narrow Amazon's lead in the segment or totally displace it. In late 2016, Alphabet launched Google Home to take on Echo.
Although Amazon's Echo currently boasts more features than Google Home, some analysts have argued that Google's access to massive user data through its Internet search service could give it an advantage in transforming Google Home into a more intelligent home automation hub. The popularity of Echo has largely been credited to its many features. Therefore, a more feature-rich Google Home is expected to erode Echo's major selling point.
But Google Home is not the only threat to Amazon's Echo. Apple (AAPL) is also believed to be developing an Echo-like device, according to Bloomberg. Microsoft (MSFT) and Facebook (FB) are other potential Amazon competitors in the home automation space.
In 2017, Wall Street expects to see efforts by Amazon to defend and expand Echo's market share in the face of increasing competition.