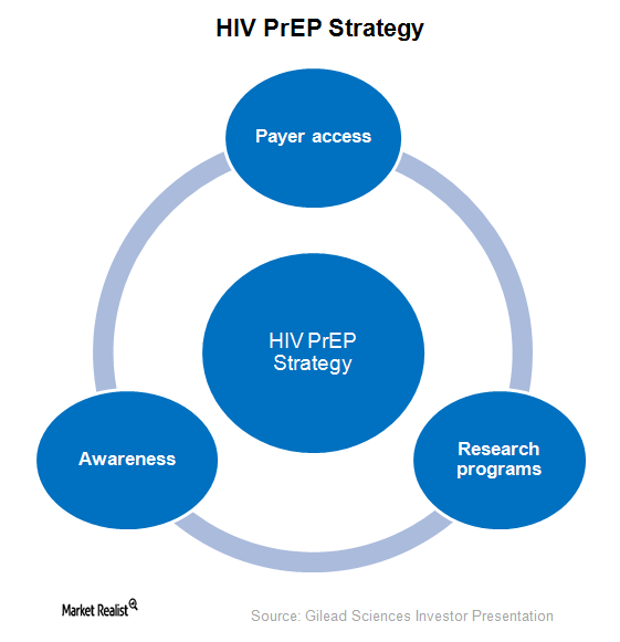 This Strategy Could Boost GILD's HIV Franchise Revenue in 2017
By Margaret Patrick

Feb. 23 2017, Updated 10:38 a.m. ET
PrEP Strategy
Besides its tenofovir alafenamide–based (or TAF) HIV drugs, Gilead Sciences (GILD) expects solid uptake for its pre-exposure prophylaxis (or PrEP) HIV therapy, Truvada, in 2017.
In 2016, 110,000 people used Truvada as a preventive therapy for HIV. Gilead Sciences witnessed the highest number of Truvada prescriptions in four US cities, with the highest being San Francisco, likely due to the region's greater awareness of HIV risks and prevention strategies.
Article continues below advertisement
San Francisco has reported falling HIV infection rates, as there have been more diagnostic tests, more of a focus on antiretroviral therapies, and more awareness related to the prevention of the disease in the area. To know more about Gilead Sciences' PrEP strategy potential, read Could PrEP Offset the Decline in Gilead Sciences' Truvada after the Generic Launch?
If Gilead Sciences is able to replicate this HIV franchise performance across other areas in the United States, its share price could see a boost, along with the share price of the iShares Core S&P 500 ETF (IVV). Gilead Sciences makes up ~0.45% of IVV's total portfolio holdings.
Awareness program
To advance its PrEP franchise, Gilead Sciences has been actively involved in creating awareness among the physician, patient, and payer community related to the benefits of HIV prevention. The company has hired a field-based team, a small but focused team that mostly targets urban areas in the United States.
Article continues below advertisement
Payer access
Commercial payers have been increasing access to HIV PrEP in the United States, as they've started to understand the long-term benefits of the prevention strategy. Gilead Sciences plans to increase coverage for its HIV PrEP drugs by creating awareness among public payers such as Medicare and Medicaid.
In Europe, Gilead Sciences is slowly seeing that governments are more in favor of reimbursing HIV PrEP drugs. The company has managed to secure reimbursement in France for its PrEP drugs, and it's treated ~3,000 people in the country. The United Kingdom has also released a statement demonstrating its support for this drug category.
Gilead Sciences has also witnessed the persistence of both patients and payers in continuing PrEP treatments for patients. This trend is further expected to boost the sales of Gilead Sciences' HIV franchise, enabling it to pose tough competition to peers such as Pfizer (PFE), GlaxoSmithKline (GSK), and Johnson & Johnson (JNJ).
Research programs
Gilead Sciences plans to extend its PrEP franchise by evaluating the potential of Descovy in a Phase 3 trial. If approved by regulatory authorities, this TAF-based regimen could provide an alternative to Truvada as an HIV PrEP therapy.
In the next article, we'll discuss trends in Gilead Sciences' hepatitis C business.