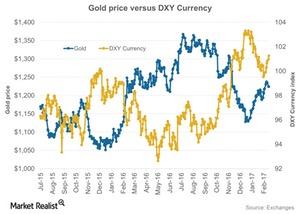 How Precious Metals Rose on a Falling US Dollar
By Meera Shawn

Updated
Precious metals rose
Gold, the big brother of precious metals, initially lost momentum on February 14, 2017. That day, the US dollar gained strength after a speech by Fed chair Janet Yellen. The other three precious metals had an up day despite the increase in the dollar.
On Wednesday, February 15, 2017, the US dollar fell about 0.07%. It still maintained a five-day trailing rise of 0.90%. The US dollar index, which measures the US dollar against a basket of six major world currencies, ended the day at 101.2.
The fall of the dollar gave a boost to precious metals. Gold, silver, platinum, and palladium rose 0.64%, 0.42%, 0.77%, and 0.68%, respectively. Gold (GLD) ended the day at $1,231.70 per ounce and maintained a 30-day trailing rise of almost 3.0%.
Article continues below advertisement
An increase in the dollar enhances the cost of dollar-based assets for buyers from other countries, and their prices may fall. Similarly, a fall in the dollar makes these assets more expensive, and their prices can rise. The weaker the US dollar (UUP), the easier it is for investors from other countries to invest in dollar-based assets such as precious metals. Precious metals and the US dollar are inversely correlated.
Correlation between the dollar and gold
The correlation between gold and the US Dollar Index is now -0.43, which means that about 43.0% of the time, gold and the dollar are moving in opposite directions. Silver's correlation with the US Dollar Index is also about -0.43.
Precious metals have retreated over the past few days, and precious metal mining stocks have suffered. However, Gold Fields (GFI), Randgold Resources (GOLD), Iamgold (IAG), and Yamana Gold (AUY) have all risen in the past month due to rises in precious metals.