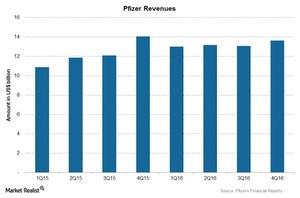 Pfizer's Innovative Health and Essential Health in 4Q16
By Mike Benson

Feb. 27 2017, Updated 7:38 a.m. ET
Pfizer's businesses
Pfizer's (PFE) portfolio includes medicines, vaccines, and consumer healthcare products. The company has segregated its operations into two businesses: Innovative Health and Essential Health.
Article continues below advertisement
Pfizer's Innovative Health business was previously referred to as Innovative Pharmaceuticals, which included the Global Innovative Pharmaceuticals segment and the Global Vaccines, Oncology, and Consumer Healthcare segment. Innovative Health contributes more than 50.0% to Pfizer's total revenues.
Pfizer's Essential Health business was previously referred to as Established Pharmaceuticals. Essential Health includes Pfizer's legacy Hospira products that it acquired in September 2015. Excluding those products, Established Pharmaceuticals products are losing revenue due to increased competition.
Let's look now at the performances for each of these segments in 4Q16.
Innovative Health segment
The revenue contribution of Pfizer's Innovative Health segment rose to ~56.7% of its total revenues for 4Q16, from ~54.4% for 4Q15. The segment's revenues rose 2.0% operationally to $7.7 billion in 4Q16 compared to $7.6 billion in 4Q15. The rise was primarily due to increased sales for Lyrica, Ibrance, Eliquis, Xeljanz, and Xtandi, and the strong performances of new products. Increased alliance revenues also contributed to growth of this segment.
Essential Health segment
Revenues for Pfizer's Essential Health segment fell 6.0% operationally to $5.9 billion in 4Q16 compared to $6.4 billion in 4Q15. The fall in revenues was mainly due to lower sales of Peri-LOE and legacy established products.
To divest the risk, you can consider ETFs such as the Vanguard Health Care ETF (VHT). VHT holds 6.4% of its total assets in Pfizer, 10.3% in Johnson & Johnson (JNJ), 5.3% in Merck & Co. (MRK), and 3.2% in Bristol-Myers Squibb (BMY).