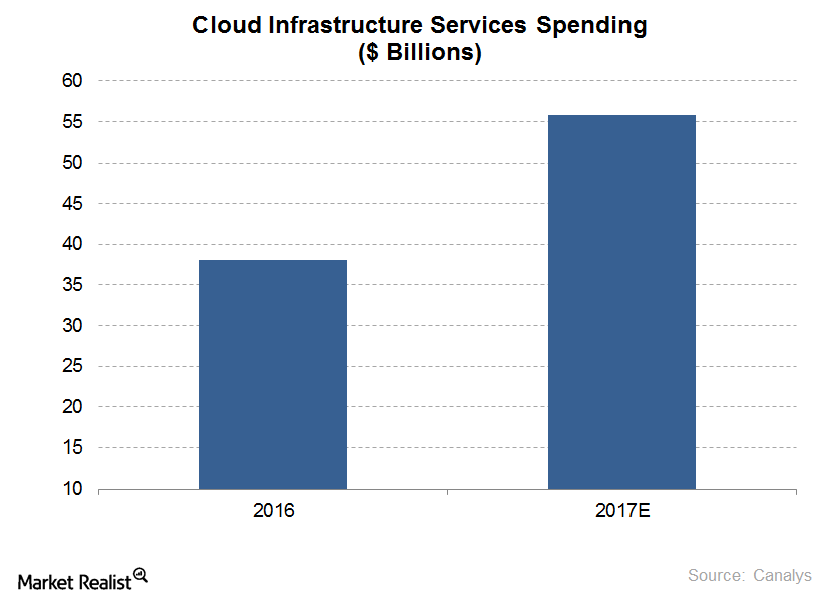 Oracle's Apiary Acquisition Leaves No Doubt About Its Agenda
By Ruchi Gupta

Feb. 17 2017, Updated 3:11 p.m. ET
A look at Apiary
If features that appeal to developers are what make Amazon's (AMZN) cloud, Amazon Web Services, popular, then Oracle (ORCL) is out to trim that advantage. The company recently acquired API (application program interface) specialist Apiary without disclosing how much it paid for the asset.
However, the motive behind the move seems obvious. Apiary has the kind of technology and customer network that could lend more color to Oracle's cloud business. Along with IBM (IBM) and Alphabet's (GOOGL) Google, Oracle belongs to the so-called cloud underdog group, where the dream is to be like Amazon (AMZN) or Microsoft (MSFT) someday.
The chart above shows cloud infrastructure spending, which reached $38.1 billion in 2016 and is poised to grow to $55.8 billion in 2017, according to Canalys.
Article continues below advertisement
Exposure to premium customers
With the technology that Apiary brings to the table, Oracle can simplify app development for its cloud customers, making its cloud more appealing. Additionally, Apiary's products are used by several Fortune 500 companies that Oracle could woo to its cloud. According to its website, Apiary's customers include Microsoft, Salesforce (CRM), GoPro (GPRO), and Viacom (VIAB).
Oracle working to strengthen its cloud position
Oracle's move to acquire Apiary also seems to be an answer to Google's September 2016 acquisition of Apiary rival Apigee for $625 million. The acquisition of Apiary also comes shortly after Oracle announced plans to open three more cloud data center regions to strengthen its cloud position.