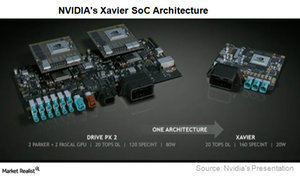 Nvidia's Autonomous Car Project: Progress Report
By Puja Tayal

Updated
Nvidia's new products support autonomous cars
Nvidia (NVDA) has partnered with several automakers to get autonomous cars on road as soon as possible. The Nvidia-Mercedes-Benz partnership aims to launch an autonomous car in the next 12 months, according to a report from TechCrunch (citing a talk between the top officials of Mercedes-Benz and Nvidia at the 2017 Consumer Electronics Show). The two companies have been working on this project for the past three years.
Nvidia has also unveiled some hardware and software technologies that support its autonomous car projects. Specifically, it's developing a self-driving car, codename BB8, that is integrated with the Drive PX 2 AI (artificial intelligence) platform and runs on Nvidia's AI Co-Pilot software.
Article continues below advertisement
Next drive computer on the Xavier platform
Nvidia also unveiled Xavier, the successor to its DRIVE PX 2 platform, at its GTC (GPU Technology Conference) in September 2016. Xavier will be built on Nvidia's Volta GPU (graphics processing unit) and house 7 billion transistors. The 8-core, ARM 64-based processor would deliver a performance of 20 trillion operations per second, and support dual 8K HDR (high dynamic range) video recording—all with just 20 watts of power.
Xavier will feature a new computer vision accelerator that can collect the images, do real-time analysis of on-road situations, and help the car take the necessary actions.
Nvidia's AI-based Co-Pilot
Nvidia's car computer will be supported by its Co-Pilot software running on the company's PilotNet deep neural network. The software will act as an AI assistant to drivers and use technologies such as speech and facial recognition to assist the driver in driving safely in complex and dynamic environments.
The software would collect data from various sensors, cameras, and microphones installed inside and outside the car to build a profile of the car from both inside and outside. It can then warn the driver if there's a hurdle on the road, such as another vehicle, a pedestrian, or a red light.
In a demonstration at CES 2017, Nvidia's Co-Pilot identified a biker in a nearby lane and also observed the driver's facial expression to understand where she's looking, and if the driver is attentive or not. If the driver was not attentive, the Co-Pilot notified the driver about the biker in the nearby lane by voice and other means.
However, this technology has to be inbuilt in the car and be supported by the necessary sensors and cameras, and so Nvidia is working with several automakers on these projects. Notably, Intel (INTC) and NXP Semiconductors (NXPI) are working on autonomous platforms but are far behind Nvidia in terms of technology.