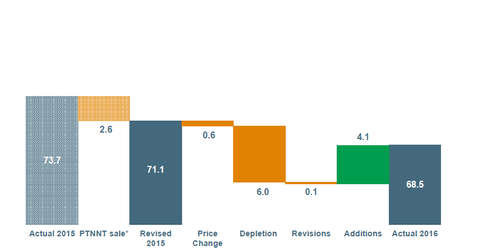 How Did Newmont Mining's Reserves Progress during 2016?
By Anuradha Garg

Updated
Reserve replacement
Gold miners (GDX) (SGDM) face the problem of compensating for every ounce they take out of the ground. While mines have finite lives, the companies operating them don't. Therefore, it's important to look at miners' estimates for their reserves and resources, as well as the assumptions used to calculate them.
Article continues below advertisement
Reserves declined
Newmont Mining (NEM) reported a 7% decline in its reserve estimates for 2016 at 68.5 million ounces compared to 2015. The net revisions and additions led to an increase of 3.4 million ounces. On the other hand, depletions, divestments, and discontinued operations led to declines of 6.0 million ounces, 2.3 million ounces, and 0.3 million ounces, respectively.
NEM maintained its gold price assumption of $1,200 per ounce to calculate its reserves. Barrick Gold (ABX) reported a 6.5% fall in its 2016 reserves, which totaled 85 million ounces. Goldcorp's (GG) reserves rose 4% to 42.3 million ounces at the end of 2016.
Yamana Gold (AUY) reported a massive 19% fall in its reserves in 2015 to 15.9 million ounces, compared to 2014. Kinross Gold's (KGC) reserves were almost flat at 34 million ounces at the end of 2015, compared to 34.4 million ounces at the end of 2014.
Resources and grade update
However, Newmont Mining's resources increased by 5.7 million ounces to 47.6 million ounces. While 6.1 million ounces came from exploration, it was partially offset by conversions of 4.1 million ounces. The company used the gold price assumption of $1,400 per ounce for calculating its resources.
For every $100 increase in gold prices, there would be an ~4% increase in gold reserves. Likewise, a $100 decrease in gold prices would result in ~6% decrease in reserves.
Newmont Mining's gold reserve grades improved from last year's ~1.1 grams per ton to 1.2 grams per ton. The 13% increase in reserve grades is mainly attributable to the sale of PTNNT (PT Newmont Nusa Tenggara) and high-grade additions.
In the next part of this series, we'll look at the advances Newmont Mining made on costs in 4Q16, and how far it still has to go.