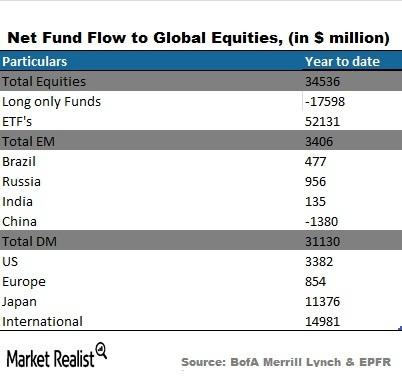 The New Year May Bring Opportunities in Emerging Market Bonds
By VanEck

Feb. 16 2017, Published 1:15 p.m. ET
VanEck
Current Opportunities in Emerging Markets Bonds
We have previously discussed the tremendous diversity within the emerging markets bond market, the structural reforms many countries have undertaken, and the improving fundamental outlook (particularly versus most developed markets). Because of these factors, we believe there is a strong case for a strategic, long-term allocation to emerging markets bonds within a diversified portfolio.
However, emerging markets asset classes can be significantly affected by changes in market sentiment, given their perceived risk. The selloff following Donald Trump's surprise U.S. presidential win is a recent example of this type of activity. Following nine months of steady inflows into emerging markets bonds, as investors sought out attractive yields relative to the asset class's improving outlook, in November investors pulled money out of emerging markets bonds amid speculation about what a Trump presidency might mean for developing markets.
Article continues below advertisement
Be Opportunistic Amid the Volatility
We believe that the long-term case for emerging markets bonds remains intact, but also expect volatility in the coming months until there is clarity on President-elect Trump's priorities and his ability to implement them. Periods of volatility may provide attractive entry points for investors to add exposure. In the near term, the sectors within emerging markets bonds may perform very differently based on how markets react to the new administration's first 100 days and beyond. Depending on an investor's opinion of what may transpire, we believe the asset class offers several ways to express that view.
Lift off – credit outperforms: The "Trump trade" has been characterized by higher interest rates across the curve and a stronger U.S. dollar due to expectations of accelerating growth and inflation. If this continues, credit sensitive asset classes such as high yield emerging markets corporate bonds may benefit. As of December 31, 2016, this sector provided a yield of 6.95%, a 78 basis points pickup over U.S. high yield corporate bonds (as measured by the BofA Merrill Lynch Diversified High Yield US Emerging Markets Corporate Plus Index and the BofA Merrill Lynch US High Yield Index), along with a shorter duration which generally reduces sensitivity to changes in interest rates.
Article continues below advertisement
In addition, higher carry can provide a cushion that protects against rising interest rates, because it may compensate for the unrealized losses that result from rising interest rates more quickly than lower yielding bonds, all else being equal. For example, for a 1% rise in interest rates, investors in high yield emerging markets corporate bonds would recoup the resulting decline in market value in about 0.5 years, versus nearly two years in U.S. investment grade corporate bonds (as measured by the Bloomberg Barclays U.S. Corporate Bond Index), due to both higher carry and lower duration.
An allocation into higher yielding fixed income sectors could therefore provide the ballast within a portfolio that core fixed income sectors may not provide in a rising rate environment. Although investors assume additional credit risk by moving into high yield bonds versus investment grade, this may prove to be a profitable trade if expectations of higher growth comes to fruition.
Article continues below advertisement
Market Realist
Investors are flocking back to emerging markets in the new year
Investors are stepping back into emerging market bonds (EMB) (EMAG) (IGEM) after removing billions of dollars from emerging markets in 2016. Emerging markets have witnessed an $11.0 billion inflow so far this year, according to EPFR (Emerging Portfolio Fund Research).
This renewed interest is due to investors retracting from their Trump trade expectations and lower odds of aggressive fiscal stimulus.
Emerging currencies have strengthened on improving commodity prices, notably the rebound in crude oil prices, since many developing economies are major exporters of raw materials. This rally was further fueled by a weakness in the US dollar (UUP) since these raw materials are priced and traded in the greenback.
The Bank of America Merrill Lynch, in its weekly fund flow report, said, "EM is now playing the role of cyclical catch-up trade: Trump's 'economic nationalism,' thus far dollar-negative not dollar-positive (biggest hit to consensus positions YTD), has made EM the contrarian Q1 winner…EM stocks and bonds have seen $11 billion inflows YTD as investors start chasing this cyclical laggard."
With further easing by the central banks in Japan and the Eurozone and another pause in the Federal Reserve's rate hike cycle, emerging markets (PCY) (EMLC) are expected to see steady inflows.
In the next part, let's see how investment-grade sovereigns could benefit during high volatility.