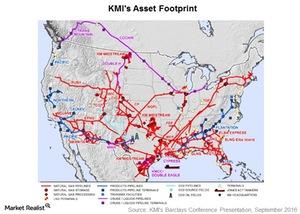 Kinder Morgan's Key Operations and Assets: What You Need to Know
Operations overview
Headquartered in Houston, Texas, Kinder Morgan (KMI) is one of the largest energy infrastructure companies in the US. Nearly 40% of the natural gas consumed in the US is transported through KMI's network of pipelines. The company transports natural gas, refined petroleum products, crude oil, condensate, CO2, and other products. It stores petroleum products, ethanol, and chemicals.
Kinder Morgan is also a large producer of CO2, which is utilized for enhanced oil recovery projects. Kinder Morgan provides services to oil companies, energy producers and shippers, LDCs (local distribution companies), and other businesses.
Kinder Morgan carries out its operations through five reportable segments: Natural Gas Pipelines, CO2, Terminals, Products Pipelines, and Kinder Morgan Canada. We'll discuss these segments in detail in subsequent parts of this series.
Article continues below advertisement
Asset overview
Kinder Morgan operates 84,000 miles of pipeline and 180 liquids or dry bulk terminals. KMI is connected to all major US natural gas resource plays, including the Eagle Ford, Marcellus, Utica, Uinta, Haynesville, Fayetteville, and Barnett.
Kinder Morgan transports nearly 2.1 MMBblpd (million barrels per day) of petroleum products and 1.3 Bcfpd (billion cubic feet per day) of CO2. The above map shows KMI's asset footprint.
Growth opportunities
Over the past 20 years, Kinder Morgan has spent more than $30 billion in acquisitions and invested more than $25 billion in expansion projects. The company plans to leverage its vast asset footprint to seek attractive expansion opportunities, including acquisitions.
Unlike most other midstream companies, Kinder Morgan has simple C corporation structure. The company has no IDRs (incentive distribution rights), which are generally present in master limited partnerships. KMI's management owns a ~14% stake.