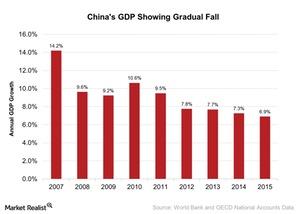 Why Munger Believes China Looks Better for Investments
By Sarah Sands

Feb. 22 2017, Published 2:02 p.m. ET
China's economy
China (FXI) (YINN) is the leading trading partner for many countries (QQQ) (IEV) (EWJ). It has shown a gradual contraction in economic growth since 2010. In 2010, its GDP rate was 10.6%. In 2016, it was 6.6%.
Domestic consumption and exports are two important components of China's (ASHR) (MCHI) economy. The country has been best known as a manufacturing hub, but it showed a massive contraction in exports in 2015.
Article continues below advertisement
China has devalued its currency to boost weakening exports. When a currency depreciates, it increases a country's export competitiveness. The yuan was devalued by the PBOC (People's Bank of China). Now the country is shifting its focus from a manufacturing hub to a consumption-based economy. Chinese consumers are becoming selective about the products they use.
Charlie Munger on China
The Shanghai Composite Index (SSE) showed a huge fall in performance at the beginning of 2016 since there was a huge contraction in China's manufacturing PMI (Purchasing Managers' Index). Over the last year, the index returned 12.3% as of February 21, 2017. Currently, the index is trading at 3,261, having fallen to 2,687 on February 29, 2016. Its trailing price-to-earnings multiple is 14.8x.
According to a forecast by the OECD (Organisation for Economic Co-operation and Development), the annual real GDP growth rate for China could be 6.4% in 2017, and the nominal GDP growth could be 8.5%. That shows that the expectation for China's economic growth is improving. Charlie Munger said at the annual meeting of the Daily Journal, "At current prices, I think an intelligent person would do better investing in China."