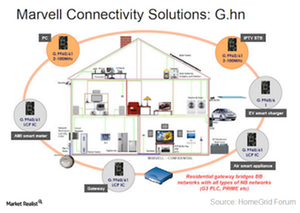 Marvell's Divestment Strategy: Where It's Headed
Marvell's divestment strategy
Marvell Technology (MRVL) started its restructuring program in November 2016, and as part of this program, the company plans to sell off its non-strategic businesses to focus on key growth areas that generate high returns.
Although it did not specify which businesses were non-strategic, it stated that the divestment would reduce revenue by $100 million and operating expenses by ~$60 million, including a reduction in legal expenses. The first signs of this were visible in February 2017.
Article continues below advertisement
At the start of February 2017, MaxLinear (MXL) agreed to acquire Marvell's home networking technology, G.hn, for a cash consideration of $21 million. At the end of fiscal 2016, Marvell exited its mobile business. The company's key focus area is now storage and networking solutions for cloud and enterprises, and it aims to expand in the automotive space.
Connecting the dots, we can interpret that Marvell may exit its consumer-based products that generate low profits to focus on business products that generate higher profits.
Marvell's G.hn technology and MaxLinear's portfolio
MaxLinear develops radio-frequency and mixed-signal semiconductors for broadband networks, and Marvell's G.hn technology would complement its MoCA (Multimedia over Coax Alliance) business.
MaxLinear's MoCA technology supports connected home using coaxial cable lines. For instance, a consumer can stream videos recorded on the living room DVR to other TVs in the home using coaxial cable lines. The addition of Marvell's G.hn technology would help MaxLinear expand this service to other wired mediums such as power line, phone line, and plastic optical fiber.
Article continues below advertisement
The G.hn technology offers full home connectivity at 1 Gbps (gigabytes) and 2 Gbps PHY rates and is ideal for real-time applications that require high-bandwidth such as HD-IPTV (high-definition Internet protocol television), VoIP (voice over Internet protocol), gaming, video surveillance, multi-room, and DVR.
Aftereffects
MaxLinear expects to complete the acquisition by calendar 2Q17. Marvell's G.hn business is a part of its networking segment. This divestiture would see Marvell's revenue fall, but its margins would improve, and its cash reserves should increase by $21 million in fiscal 2Q18.
In the coming few parts of this series, we'll examine how Marvell's fiscal 4Q17 earnings might look. Notably, you can gain exposure to Marvell by investing in the iShares Russell 1000 Value ETF (IWD), which has holdings in large-cap US equities across various sectors and 0.06% exposure to MRVL.