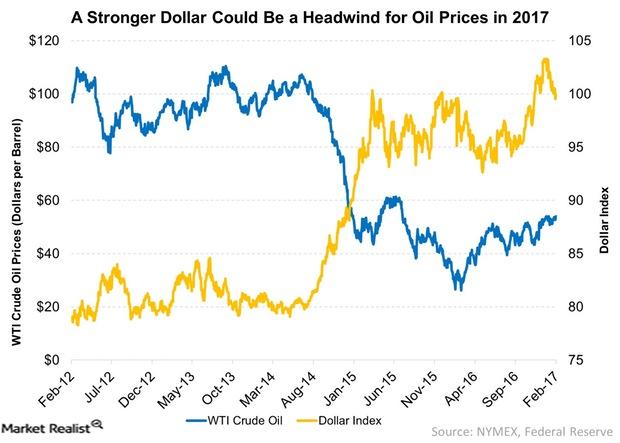 Where Oil Prices Could Head
By John Love

Nov. 20 2020, Updated 4:44 p.m. ET
USCF
OPEC's decision to cut 1.2 mbd has already had a significant price effect, and compliance has already started. Production dropped 3% in December. At the moment, all eyes are on whether OPEC members will comply, and whether returning supply from Libya and Nigeria may offset any cuts OPEC has announced. The bigger wildcard is the U.S. It seems fairly apparent that any action that supports prices brings U.S. supply back online at a faster clip. This is self-limiting, though some analysts believe it will take drillers longer to return supply to the market than demand will require in 2017.
Article continues below advertisement
Forecast demand must materialize, which seems likely given the current global economic outlook. Increased spending on infrastructure and improving corporate earnings are a positive for crude. However, since WTI is priced in dollars, decent economic fundamentals (supportive of crude) will lead the Federal Reserve (FED) to continue raising rates (positive for the dollar and negative for crude). On balance, the crude market is better off than it was at the start of 2016 and 2015 and arguably before that. The biggest headwind remains the U.S. and global surplus, which seems likely to finally start getting closer and closer to normal in 2017.
Market Realist
As shown in the above graph, the US dollar and crude oil prices tend to move in opposite directions, as oil (USO) (USCI) is priced in dollars (UUP). An improving economy and the possibility of aggressive spending by the new US administration could cause the Fed to take a hawkish stance, culminating in multiple rate hikes. These developments could lead to an even stronger dollar, which is a major headwind for crude oil.
The elasticity of the US supply, the returning supply for Libya and Nigeria, the already high oil inventory, and questionable global growth could all cause oil prices to fall further. It remains to be seen whether the production cut could nullify these factors.