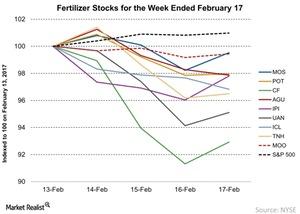 Last Week Proved Negative for Fertilizer Stocks
By Adam Jones

Updated
Sector performance
The week ended February 17, 2017, was negative for agricultural fertilizer stocks. The VanEck Vectors Agribusiness ETF (MOO) fell 56 basis points during the week, while the S&P 500 (SPY) (SPX-INDEX) rose 98 basis points. In this series, we'll take a look at the weekly and YTD (year-to-date) performance of eight major publicly listed agricultural fertilizer companies.
Article continues below advertisement
Fertilizer stock performance
Last week remained mostly negative for fertilizer stocks. Of the eight stocks in the above chart, none ended the week in positive territory. CF Industries (CF) emerged as the biggest loser, falling 7.1% to $34.10. That week, CF reported its 4Q16 and fiscal earnings, which fell short of expectations. To learn more, read CF Industries Stock Fell on Lower-than-Expected 4Q16 Earnings. CVR Partners (UAN) was the next biggest loser, with its stock falling 4.9% to $5.80 per share.
Terra Nitrogen (TNH) followed, with its stock falling 3.5% to $103.30. Israel Chemicals (ICL) fell 3.2% to $4.60 per share, and Intrepid Potash's (IPI) price target was upgraded, though it fell 2.2% to $2.20 per share. Agrium (AGU) fell 2.1% to $103.70, PotashCorp (POT) fell 2% to $18.70 per share, and Mosaic (MOS) ended the week 47 basis points lower at $33.60 per share.
Article continues below advertisement
Year-to-date performance
Last week, Mosaic passed Israel Chemicals to emerge as the top performer YTD. Its stock had risen 13.8% YTD, while Israel Chemicals had risen 12%. CF Industries was up 7.0%, followed by Intrepid Potash, which was up 6.7% YTD. Agrium was up 3.5%, and PotashCorp had risen 3.3%. In contrast, CVR Partners had fallen 7.7%, and Terra Nitrogen had fallen 1.6% YTD. The VanEck Agribusiness ETF (MOO) was up 5.2%, while the S&P 500 had risen 4.1% YTD.
Series overview
Fertilizer prices are key to the aforementioned companies' performance. In this weekly series, we'll provide an update on fertilizer price movements for the week ended February 17, 2017. We'll start by looking at last week's price movements for nitrogen, phosphate, and potash fertilizers. Towards the end, we'll discuss fertilizer affordability.