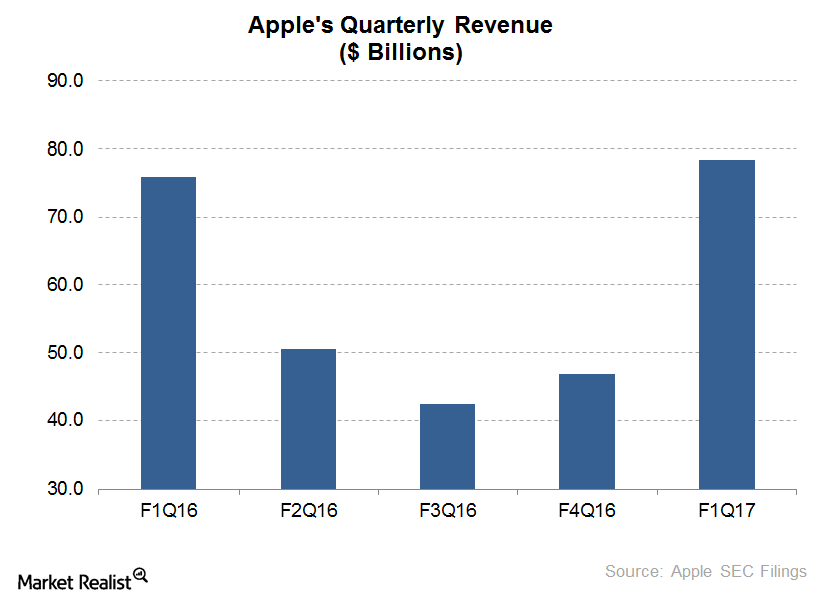 Is Samsung Boosting Apple's Performance?
By Ruchi Gupta

Nov. 20 2020, Updated 2:18 p.m. ET
Apple finally takes advantage of Note 7 debacle
Apple's (AAPL) financial performance in recent quarters has been disheartening, with falling revenues amid tepid demand for the iPhone. But its December quarter, the company's fiscal 1Q17, was different and appeared to resurrect hopes that the company still has a bright future.
Apple also sold far more iPhones in the quarter than it has ever sold in any prior period: 78.3 million units, indicating a 4% YoY rise to more than 77 million units that analysts expected to be shipped.
Article continues below advertisement
Not only did Apple ship more iPhone units than Wall Street expected, but the company also leaped over Samsung (SSNLF) to become the top smartphone seller in the December quarter, an indication that Apple took advantage of the Galaxy Note 7 recall fiasco. Samsung shipped 77.5 million smartphones that quarter, with sales largely impacted by the Note 7 recall.
Revenues
Apple's revenue of $78.4 billion in 1Q17 rose 3% YoY (year-over-year) to set a new record, surpassing the consensus estimate of $77.4 billion. Its EPS (earnings per share) of $3.36 was also a record, having increased 2% YoY, and toppled the estimate of $3.22.
Apple's services division also fared well in fiscal 1Q17, with sales rising 18.4% to $7.2 billion, supported by the robust performance of App Store and other services businesses.
iPad and Mac remain problematic
However, Apple struggled in the tablet and PC markets as iPad unit sales dipped to 13 million from more than 16 million one year ago. Mac unit sales stayed flat at 5.3 million. Apple is working to refresh its iPad line this year to try to jump start growth.
For the current quarter, Apple is expecting sales in the range of $51.5 billion–$53.5 billion, but the outlook is a bit tepid, reflecting the reality of the growing competition it faces from Samsung, Microsoft (MSFT), Alphabet (GOOGL), BlackBerry (BBRY), and Chinese smartphone brands.