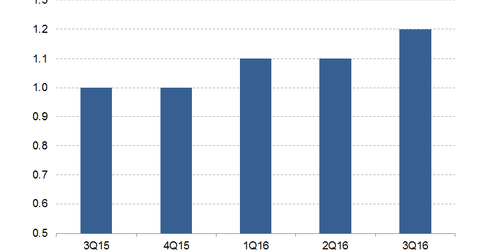 Is Facebook's RT Block a Negative Signal?
By Ruchi Gupta

Updated
RT denied full access for several hours
Facebook (FB) denied a Russian media outlet, RT, the ability to post live videos and images on its Facebook account ahead of Donald Trump's inauguration. The move meant that RT could only publish text content on Facebook, and the limitation was only meant to last until late Saturday, January 21, Moscow time.
Facebook boasts 1.2 billion daily active users worldwide.
Although Facebook restored full access to RT after about 24 hours of outage, it wasn't clear what caused the move. But RT appeared to link the development to its streaming of President Obama's final press conference as US President live on Facebook. RT's live-streaming of the press conference resulted in copyright complaints against the company.
Facebook's move to limit RT's account appeared to be aimed at preventing the media outlet from repeating the offense.
Article continues below advertisement
Is Facebook censoring the news?
While Facebook may have meant well with the decision to limit RT's account, the move could portray the company as censoring news, which could complicate its efforts to woo publishers to its news-oriented platforms such as Instant Articles and Facebook Live.
Although several media outlets use the Instant Articles feature, some have been hesitant to embrace it, fearing Facebook would take control of the news media and might someday apply its power negatively.
Pursuit of online ad spending
Facebook, Twitter (TWTR), and Alphabet's (GOOGL) Google are wooing media outlets to increase the appeal of their services and improve engagement on their platforms so that they can attract more ad spending.
Apple (AAPL) is also in the digital news business through Apple News feature. NBCUniversal, a unit of Comcast (CMCSA) sells ads against Apple News on behalf of publishers.