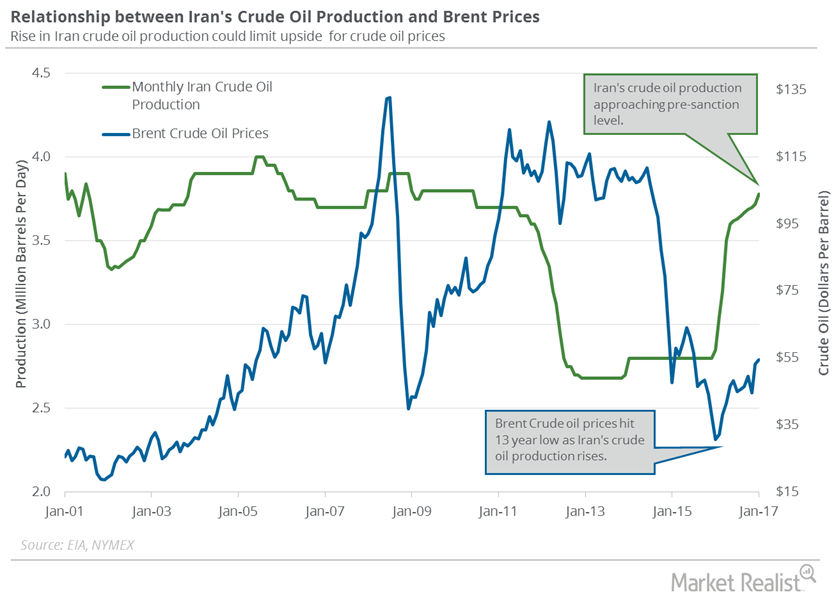 Iran's Crude Oil Production Could Impact the Crude Oil Market
Iran's crude oil production
The EIA (U.S. Energy Information Administration) estimates that Iran's crude oil production rose by 60,000 bpd (barrels per day) to 3,780,000 bpd in January 2017—compared to the previous month. Production rose 1.6% month-over-month and 32.6% year-over-year.
Iran's crude oil production averaged 3.5 MMbpd (million barrels per day) and 2.8 MMbpd in 2016 and 2015, respectively. Iran was able to increase its production after the US lifted sanctions on the country. A rise in crude oil supplies from Iran would have a negative impact on crude oil (BNO) (XLE) (ERX) prices. For more on crude oil prices, read Part 1 of the series.
Article continues below advertisement
On February 3, 2017, Trump's Administration ordered new sanctions against some Iranian individuals and entities as Iran tested a ballistic missile. It could raise geopolitical tensions between the US and Iran. It would have a negative impact on Iran's crude oil production and supplies. Lower crude oil prices have a negative impact on crude oil and gas producers' earnings like National Iranian Oil Company, QEP Resources (QEP), Synergy Resources (SYRG), Chevron (CVX), and Sanchez Energy (SN).
Iran's crude oil production strategy
On February 18, 2017, National Iranian Oil Company reported that Iran targets production of 4 MMbpd by April 2017. The company estimates that Iran targets to produce 4.7 MMbpd of crude oil by 2022. So, Iran plans to drill 500 new wells over the next five years.
However, many analysts think that Iran isn't investing heavily enough to increase its crude oil production.
Impact
Iran was exempt from the production cut after the production cut deal. As a result, Iran sold ~13 million barrels of crude oil kept in large oil tankers in December 2016 and early January 2017. Read Will OPEC Extend Its Crude Oil Production Cut Plan? for the latest updates on major oil producers.
Any rise in crude oil production from Iran will put a lid on crude oil (FENY) (USO) (RYE) prices. Volatility in crude oil prices impacts oil producers such as Matador Resources (MTDR) and Bonanza Creek Energy (BCEI).
In the last part of this series, we'll take a look at some crude oil price forecasts.