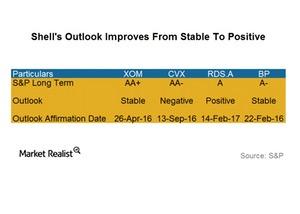 Integrated Energy Stocks' Credit Ratings: XOM, CVX, RDS.A, BP
By Maitali Ramkumar

Updated
Integrated energy firms' credit ratings
We'll start with a look at Standard & Poor's credit ratings for the leading integrated energy companies—ExxonMobil (XOM), Chevron (CVX), Royal Dutch Shell (RDS.A), and BP (BP).
The table above shows that XOM has the highest long-term credit rating of AA+ with a stable outlook, which means this rating is not likely to change. XOM held an AAA rating for more than 1.5 decades before the fall in oil prices took its toll on the company's rating. Until April 26, 2016, XOM was just one of the integrated energy companies holding this noteworthy AAA rating.
Next in line is Chevron with a AA- credit rating and a negative outlook. The negative outlook states that the rating might reduce. Shell and BP have lower ratings than CVX. BP's ratings stand at A- with a stable outlook.
Article continues below advertisement
However, Royal Dutch Shell (RDS.A) has witnessed an improvement in its outlook. Though Shell holds an A rating, its outlook improved from "Stable" to "Positive" on February 14, 2017, after its 4Q16 earnings. While Shell missed its consensus earnings estimates, its adjusted income rose as upstream earnings swung to profits in 4Q16. For more on Shell's 4Q16 earnings, see How Did Shell Perform in 4Q16?
If you're looking for exposure to S&P 500 Index stocks, you can consider the SPDR S&P 500 ETF (SPY). The ETF also has ~7% exposure to energy stocks, including XOM and CVX.
Series outline
In this series, we offer a cross-sectional fundamental analysis of integrated energy stocks after their 4Q16 results. In our previous series on integrated energy stocks, How Integrated Energy Stocks Are Performing in 2017 So Far, we saw how integrated energy stocks' market performance is shaping up.
In the next couple of parts in this series, we'll compare leverage and cash flow positions for integrated energy stocks. We will also consider their earnings models and operational performance by evaluating their segmental earnings models, upstream production mix, refinery throughputs, trading activity, spread of refined products, and petrochemical markets after their 4Q16 earnings.
Read on to the next part to learn about these companies' current leverage positions.