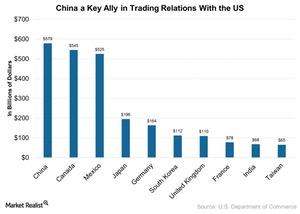 Hyman on Trump: Policies Mean Fair Trade, Not Trade War
By Mary Sadler

Updated
China: a major partner in economic development
According to Evercore's Ed Hyman, China (FXI) (MCHI) has emerged as a dominant economic power in last few years and, thus, cannot be ignored. China's economic rise has led to increased trading relations with the US. The total trade in goods between the two countries has surged to an estimated $579 billion in 2016, or ~16% of the total trade value.
For the US, China is now the largest trading partner. It's currently the third-largest export market and first largest source of imports. According to Hyman, the Trump administration expects China to follow fair trade practices, as compared to the market view of a so-called "trade war."
Article continues below advertisement
Top trading partners
As of 2016, China (FXI) is now the US's largest trading partner with the value estimates at $579 billion. As of 2016, the US was exporting goods and services to China to the tune of $2.2 trillion—2.3% less than in 2015—and imports from China came in at 2.7 trillion, which was down 1.8% from 2015. China's investment in the US is increasing and estimated to be at $18 trillion as of second half of 2016.
Mergers and acquisitions estimated an inflow of capital in the US, with 55 acquisitions completed worth more than $17 billion in 2016. China's trading relations with US are vital for its growth and needs a slow pace to address the concerns facing two nations.
Tariffs?
According to Hyman, Trump's aggressive policies aim to "level the playing field" for most participants. Trump has accused China of harming US companies by subsidizing Chinese industry and adjusting its currency to reduce the prices of its exports. The 45% tariff suggested by Trump, for example, and other sanctions aim to bring trade on the similar platform, at least between China and the US.
If a tariff is implemented, however, it will most likely meet with retaliation from other countries imposing tariffs on US exports, resulting in slower economic growth in both the nations. According to Hyman, the recent developments with Trump accepting and honoring the "One China" policy is a step toward diplomatic relations with the country.
China's investments
China is also playing a crucial role in employment through its investments in the US and its own economic growth. In 2012, China-based majority-owned affiliates of multinational enterprises in the US employed ~1.3 million people, which is an increase of 6.9% from 2011. It accounted for ~$234.3 billion in sales, representing a rise of 11.3%.
Multinational US corporations view China as an important and growing market due to its size. As of 2015, the World Bank estimated China's population at 1.3 billion and its economic output at $11 trillion. So companies like Apple (AAPL), Microsoft (MSFT), IBM (IBM), and Ford Motor (F) are all, understandably, betting on the rapidly growing Chinese middle-class population to drive consumption.