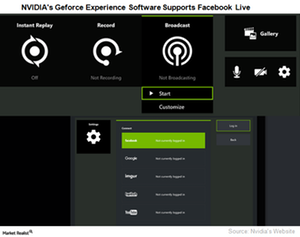 How Would a Nvidia-Facebook Partnership Benefit Both Companies?
By Puja Tayal

Updated
Nvidia partners with Facebook
In the previous part of the series, we discussed how Nvidia (NVDA) is bringing GeForce Experience on the cloud with its GeForce NOW platform. The company is also expanding in the game streaming market to tap the "600 million video game viewers," according to Nvidia.
To do this, Nvidia has partnered with Facebook (FB) for live streaming of video games.
At the 2017 Consumer Electronics Show, Nvidia announced that its Geforce Experience software would allow users to broadcast their game directly on Facebook Live. Users can take a 360-degree screenshots using Nvidia's Ansel software and share it on Facebook. The image would appear as a pannable photosphere on the Facebook timeline.
Article continues below advertisement
What's in it for Facebook?
The Geforce Experience already supports two popular streaming channels, Amazon's (AMZN) Twitch and Google's (GOOG) YouTube Live. Facebook is now looking to enter the live streaming field with its Facebook Live, and partnering with a gaming leader like Nvidia would likely help the social site compete with Twitch and YouTube.
Facebook has also partnered with game developer Blizzard to stream Overwatch or StarCraft II.
What's in it for Nvidia?
Nvidia is trying to give live-streamers access to a bigger audience, thereby attracting more gamers to its GeForce Experience software, which only runs on the company's GPUs (graphics processing units). Nvidia is also looking to tap Facebook Live users, who could enjoy Geforce Experience by buying Nvidia's graphics card, and so Nvidia is looking to support as many popular live streaming platforms as possible.
While gaming is currently the biggest market for Nvidia's GPUs, the future market for its GPUs is in the data center space. We'll look at the company's progress in the data center space in the next part of the series.