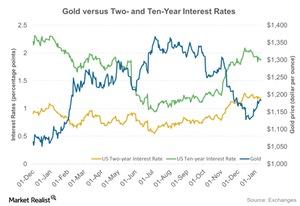 How Much Would an Interest Rate Hike Push Gold?
By Meera Shawn

Feb. 20 2017, Updated 7:37 a.m. ET
Gold and interest rates
Last week, Fed Chair Janet Yellen's comments boosted the probability of an interest rate hike in March to almost 34%. Many traders, however, still see a less than 50% chance of three hikes in 2017.
That said, because the rate of interest and gold prices are closely related, the higher the rate offered on Treasuries, the lower the demand for the haven assets like gold and silver. The inverse relationship between these two can be seen in the chart below.
Precious metals are non-yield bearing assets. Thus, their prices rise the higher interest offered on Treasuries.
Article continues below advertisement
Mining funds and shares
The Fed is looking more seriously at a rate hike in March could be, in part, driven by the push given by the Trump administration. As the government proposes to increase spending and pursue Trump's policies, the sentiment in the market has remained optimistic, and although volatility has dropped, the demand for precious metals is still buoyant.
Investors will also be closely eyeing the economic numbers that come out of the US and the movement of inflation numbers to the target of 2%. The better the financial performance, the lower the demand will be for precious metals and funds like the Sprott Gold Miners (SGDM) and the Global X Silver Miners Fund (SIL), which lost 0.8% and 1.7%, respectively, on February 15.
The sentiment in the precious metal market also impacts the mining shares like Newmont Mining (NEM), New Gold (NGD), B2Gold (BTG), and Royal Gold (RGLD). All these shares have seen 30-day-trailing gains—except New Gold.