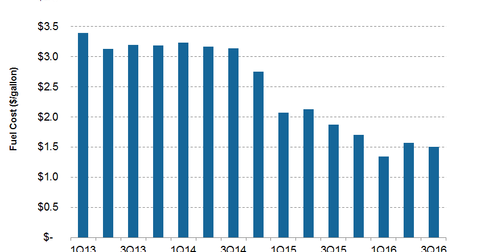 How Long Can Airlines Continue to Benefit from Low Crude Prices?
By Ally Schmidt

Updated
Oil price stays put at $50 per barrel
The price of crude oil has been rising steadily since August 2016. It rose 7.5% to $44.70 per barrel in August, 2.2% to $45.70 in September, 2.5% to $46.90 in October, 5.5% to $49.40 in November, and 8.7% to $53.72 in December. It is currently trading at ~$53.
The 8.7% rise in December came after OPEC (Organization of the Petroleum Exporting Countries) agreed to cut its oil production by 1.2 million bpd (barrels per day). Other non-OPEC countries also agreed to cut production by 0.6 million barrels per day. These cuts gave rise to hope that the oil price war started by Saudi Arabia over two years ago may finally be coming to an end.
Article continues below advertisement
However, oil has not been able to breach the $50 mark, despite the fact that OPEC has largely complied with production cut plan. Although OPEC oil inventories have been declining, US oil inventories are steadily increasing. Also, Russia has cut production by only 100,000 bpd, as opposed to the promised 300,000 bpd.
What to expect
In short, the oil oversupply problem remains. Also, with Iran's sanctions lifted and China teaming up with other countries to increase oil production, production capacity will remain high. Therefore, the price of oil isn't expected to rise significantly and may fall further if the supply problem gets worse.
Also, an oil price rise may not be entirely bad for airlines. The oil price slump adversely affects economic activities in many oil-producing countries that also happen to form a large corporate base for airlines. Therefore, some upward movement in oil could boost airline demand, as long as airlines can pass on these hikes to customers. This new normal for fuel prices means airlines can continue to enjoy profitability, though not as high as that seen in 2015 and 2016.
Investors can gain exposure to airlines by investing in the SPDR S&P Transportation ETF (XTN), which invests ~3% of its holdings in Southwest Airlines (LUV) and Alaska Airlines (ALK), 2.8% in Allegiant Travel (ALGT), 2.7% in United Continental (UAL), 2.7% in American Airlines (AAL), and 2.7% in Delta Air Lines (DAL).