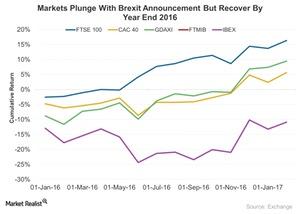 How Have Equities Performed since the Brexit Vote?
By Mary Sadler

Nov. 20 2020, Updated 12:45 p.m. ET
Equities' resurgence following the Brexit vote
Many investors believed that the United Kingdom would vote to stay in the European Union and were caught off guard by the results of the Brexit vote. This surprise sparked sharp and rapid repricing across asset classes (SPY) (SPHD). European equity markets (HEDJ) (VGK) saw the brunt of selling across sectors.
Investors lost confidence due to the uncertainty surrounding the vote, which led to the expectation of the other member nations' following in the United Kingdom's footsteps.
Article continues below advertisement
European markets recovered as markets absorbed Brexit shock
Stocks tumbled in Europe after the United Kingdom decided to exit the European Union. One week after the Brexit announcement on June 23, 2016, the Frankfurt Index (DAX) (DAX-INDEX) and the Paris Index (CAC 40) (PX1-INDEX) had both fallen~6%–8%. The Italian Index (FTMIB)(FTMIB) and the Spanish Index (IBEX)(IBEX) fell more than 20%, led by a plunge in European banking stocks (EUFN).
Italy's Unicredit (UCG) and Spain's Banco Santander (SAN) fell more than ~20% each. London's FTSE Index (UKX-INDEX) fell just 3.2%, with some investors considering the plunge in the British pound a benefit to Britain's economy. The state-backed Royal Bank of Scotland (RBS) and Barclays (BCS) fell more than 20% in the week following the announcement.
The FTSE Index rose ~14% in 2016. By the end of 2016, all European indexes except for a few had recovered from their losses. The Frankfurt (GDAXI) and Paris (FCHI) indexes both rose ~7% and 5%, respectively. The Italian (FTMIB)(FTMIB) and Spanish (IBEX)(IBEX) indexes each still suffered losses of ~10%.
US impact
The Brexit vote result's immediate impact on the US stock market was limited to June 23, 2016, when investors flocked to safe havens such as US Treasuries. In the following week, the S&P 500 Index (SPY) (SPX-INDEX) fell ~6%. The Dow Jones Industrial Average Index (DJIA-INDEX) and the Nasdaq Composite Index (COMP-INDEX) fell 0.5% and 2%, respectively.
Leading investment banks (XLF) such as Goldman Sachs (GS), Morgan Stanley (MS), JPMorgan Chase (JPM), and Citigroup (C) also suffered temporary falls after the Brexit announcement. However, the markets reversed within a couple of weeks due to improving US economic activity.
The overall impact of Brexit on US markets has been negligible, probably because the trade relationship between the United States and the United Kingdom isn't substantial enough to affect the US economy, and US economic activity is gaining momentum to support its growth.
According to Bob Diamond, the UK economy will eventually stabilize, focusing on domestic strengths. However, Diamond also feels that European markets are still at risk, as they're fragile due to institutional instability within nations such as Italy.
Let's look at the impact of Brexit on currencies in the next article.