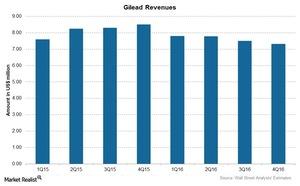 How Gilead's Revenue Trended in 2016
By Mike Benson

Mar. 1 2017, Updated 7:38 a.m. ET
Gilead's revenue  
Gilead Sciences (GILD) reported a decrease in revenues by ~7% to $30.4 billion during 2016 as compared to $32.6 billion during 2015. This includes product revenues of $30.0 billion, and royalty, contract, and other revenues of $437 million for 2016. Plus, analysts' estimate shows a decline of ~19% in revenues for 2017 to $24.6 billion.
The above graph shows the revenues of Gilead in each quarter. For 4Q16, the company reported revenues of $7.2 billion, a 14% decline from $8.4 billion in 4Q15.
Article continues below advertisement
Geographical sales  
The US markets reported $19.3 billion in product sales during 2016, while the European markets reported $6.1 billion in product sales. Japan and other international markets reported product sales of $2.5 billion and $2.1 billion, respectively, for 2016.
Antiviral products  
Antiviral products, which includes the hepatitis C virus (or HCV) franchise and the HIV franchise, are the largest revenue contributors for Gilead, contributing over 90% of total revenues. The antiviral products contributed ~91.3% at $27.8 billion as compared to total revenues of $30.4 billion during 2016. This segment includes various drugs for HIV and liver diseases.
During 2016, HIV and other antiviral products reported revenues of $12.9 billion as compared to $11.1 billion for 2015. The revenues increased due to increased sales of Genvoya, Descovy, and Odefsey. These products are tenofovir-alafenamide-based products.
The HCV franchise reported a decline in revenues from $19.1 billion in 2015 to $14.8 billion in 2016. The decline was driven by lower sales of Harvoni and Sovaldi, partially offset by Epclusa sales.
Some of the approved treatments for HCV include Zepatier from Merck (MRK), Daklinza from Bristol-Myers Squibb (BMY), Technivie and Viekira Pak from AbbVie (ABBV), and Olysio from Johnson & Johnson (JNJ).
Other products  
Other products include various products like Letairis, Ranexa, and AmBisome. Other products reported sales of $2.2 billion, contributing ~7.2% of total revenues for 2016. Nearly 37% of these revenues were from Letairis sales.
To divest the company-specific risk, investors can consider ETFs like the First Trust High Income ETF (FTHI), which holds ~2.3% of its total assets in Gilead Sciences.