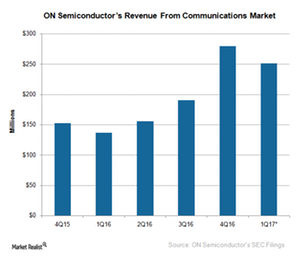 How Fairchild Integration Could Help ON Grow in the Communications Market
Revenues from the communications market
In the previous part of this series, we saw that ON Semiconductor (ON) could benefit from Fairchild Semiconductor's strong industrial portfolio. This would enable ON to deliver a comprehensive power management solution to industrial customers.
ON would also benefit from Fairchild Semiconductor's portfolio for the communications market, where it serves both networking and wireless customers. ON Semiconductor earns 22% of its revenues from the communications market.
In 4Q16, ON Semiconductor's revenues from communications rose 46.6% sequentially to $279.3 million, driven by strong demand for its fast-charging and USB Type-C products. The company also benefited as global and Chinese (MCHI) OEMs[1. original equipment manufacturers] ramped up new platforms.
Rival Maxim Integrated (MXIM) reported a 1.8% sequential decline, and Analog Devices (ADI) reported 1% sequential growth in communications revenues during the same quarter.
Article continues below advertisement
Key growth drivers in the communications market
Fairchild Semiconductor's new orders from its Mobile business rose to a three-year high in 4Q16 as distributors refilled their inventories. Fairchild Semiconductor witnessed more than seasonal demand from Chinese handset makers for some of its products and as a result, the company was left with no inventory for those products.
ON saw strong demand for its wireless charging products from the high-end phones and perhaps some major platforms. The company is leveraging its smartphone customer base to cross-sell Fairchild Semiconductor's products. So far, it has seen a strong demand for the combined portfolio.
Fiscal 1Q is a seasonally low quarter for communications and ON expects revenues from this market to fall on a sequential basis in 1Q17. However, it expects strong sales in the smartphone segment of the market given the strong orders from Chinese handset makers in 4Q16.
How could Fairchild integration impact ON in the communications market?
Fairchild Semiconductor's product portfolio has increased ON's addressable content per communication device from $9 to $11. The combination of Fairchild Semiconductor's fast-charging AC (analog converter) to DC (digital converter) power adapters and ON's power adapters, which includes magnetic resonance wireless charging products, provides a broad range of wired and wireless charging solutions to its communications customers.
The combination of the two companies' low-power portfolios creates a comprehensive portfolio of DC to DC and battery management solutions for smartphones and AR and VR (augmented reality and virtual reality) headsets. These highly complementary products could make the combined company a leader in wall-to-battery power solutions and USB Type-C peripheral connectivity.
Next, we'll look at ON's consumer and computing end markets.