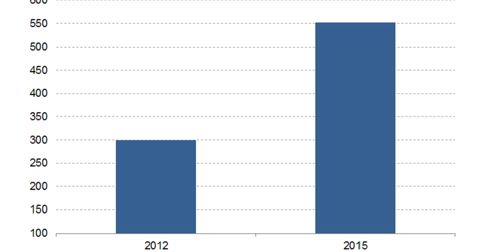 How Ending Audible's Exclusivity Could Affect Amazon
By Ruchi Gupta

Updated
Amazon and Apple free each other
Last month, Amazon (AMZN) and Apple (AAPL) decided to end an exclusive contract for the supply and distribution of audiobooks. In 2008, the companies entered a global agreement in which Amazon's audiobook supplier Audible could only supply to Apple. However, the arrangement was widely criticized in Europe, where regulators claimed it wasn't fair.
According to the Association of American Publishers, the US market for downloaded audiobooks was worth $552 million in 2015, up from $299 million in 2012. Publishers in Germany were the first to complain about the Amazon-Apple audiobook exclusivity deal. According to the publishers, the arrangement gave the companies an unfair advantage in the audiobook market, as 90% or more of audiobook downloads in the country were through either Amazon or Audible sites, or Apple's platform.
Article continues below advertisement
Scrapping the deal means freedom
The end of the exclusive contract means Audible has been freed to supply customers outside Apple with audiobooks. Apple is also free to source audiobooks from other suppliers. Regulators in Europe welcomed the development and announced an end to their probe into the controversial audiobook exclusivity arrangement.
Industry could grow more rapidly
The scrapping of the exclusivity deal could lead to the audiobook industry growing more quickly, potentially yielding more sales for Amazon despite book prices falling because of higher competition. Additionally, ending the exclusivity saves Amazon and Apple from potential fines they could have faced in Europe if the investigation into their deal was found to violate the region's antitrust laws. The market for digital content, from audiobooks to videos, is heating up, with companies such as AT&T (T), Alphabet (GOOGL), Sony (SNE), and Netflix (NFLX) fighting to dominate the market.