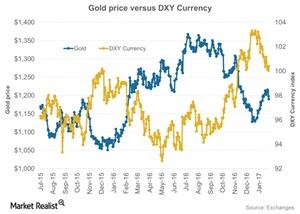 How Did the US Dollar Impact Precious Metals?
By Meera Shawn

Updated
US dollar receded
The US dollar rallied strongly as the December 2016 interest rate hike took effect. The election of Donald Trump also boosted the dollar, as he supports increased government spending. The rise in the dollar initially hampered precious metals, as a stronger dollar can cause dollar-based assets to fall.
However, the dollar has begun to fall, posting a 0.7% weekly loss on February 3. The Federal Reserve failed to hike interest rates further, keeping investors away from the dollar and buoying dollar-denominated precious metals.
Article continues below advertisement
The weaker the US dollar gets, the easier it is for investors from other countries to invest in dollar-based assets such as precious metals. Precious metals and the US dollar are inversely correlated. An increase in the dollar increases the cost of dollar-based assets for buyers from other countries, and their prices may decline. Similarly, a fall in the dollar makes these assets more expensive, and their prices can rise.
Correlation between the dollar and gold
The correlation between gold and the US Dollar Index is now -0.43, which means that about 43% of the time, gold and the dollar are moving in opposite directions. Silver's correlation with the US Dollar Index is also about -0.43.
Changes due to movements in the dollar can be seen in mining funds such as the SPDR S&P Metals and Mining ETF (XME) and the iShares MSCI Global Gold Mining ETF (RING). These two funds saw massive year-to-date rises alongside precious metals.
As precious metals have retreated over the past few days, precious metal mining stocks have also suffered. However, Gold Fields (GFI), Randgold Resources (GOLD), Alacer Gold (ASR), and Yamana Gold (AUY) have all seen gains in the past month due to the rise in precious metals.