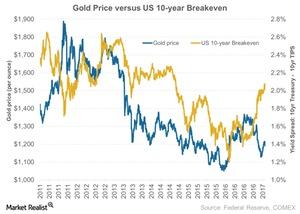 How Did January's Job Numbers Affect Precious Metals?
By Meera Shawn

Updated
Economic numbers
Because changes in precious metals are dependent on the overall stance of the economy, the reports that reflect the state of the US economy play an important role in impacting precious metals.
The non-farm employment report measures the change in the number of employed people during the previous month, excluding the farming industry. According to the latest report, the US created about 227,000 new jobs in January 2017—the largest gain in four months. The unemployment rate rose to 4.8% as more workers looked for jobs.
Article continues below advertisement
The average hourly earnings, which measure the change in the price businesses pay for labor, excluding the farming industry, was lower than analysts' expectations of 0.1% to $26 per hour. Hourly pay increased 2.5% from January 2015 to January 2016, down from 2.8% reported in December 2016. These numbers help identify the inflation levels in the US, which may not be as strong as the market expects.
Inflation and gold
Inflation and gold also have a close relationship, and gold is known as a hedge against inflation. When the market is gripped by higher inflation numbers, investors may opt for gold.
The above graph shows the relationship between gold and the US ten-year and two-year break-even interest rate. The fluctuations in inflation numbers could lead to a change in precious metals, which in turn could impact mining funds such as the Sprott Gold Miners ETF (SGDM) and the Global X Silver Miners ETF (SIL).
Miners also are affected by changes in these metals. Royal Gold (RGLD), B2Gold (BTG), Newmont Mining (NEM), and New Gold (NGD) have risen over the past month due to the revival in precious metals.