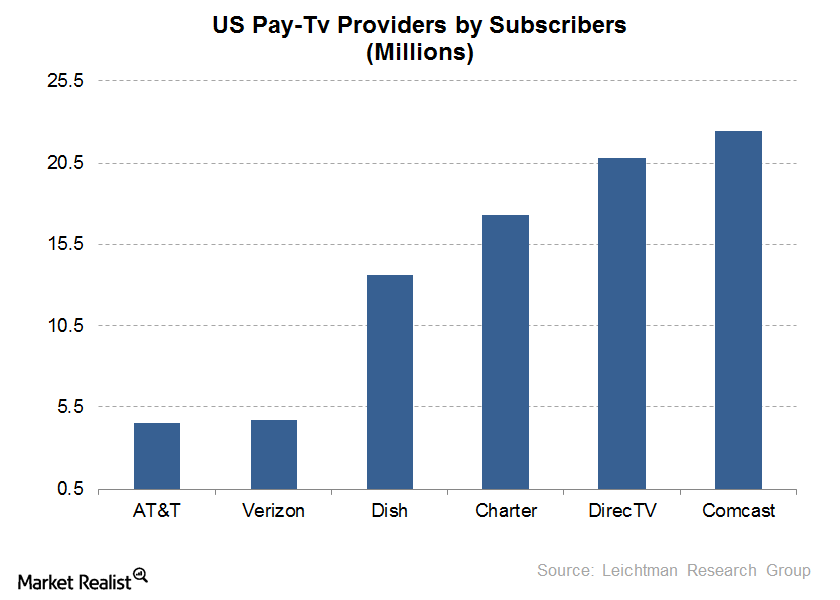 How Could the AT&T-Nielsen Deal Impact DIRECTV NOW?
By Ruchi Gupta

Feb. 17 2017, Updated 3:11 p.m. ET
More accurate TV ratings
Television ratings are about to get more accurate as AT&T (T) and Nielsen have agreed to share data to track and measure television viewing habits in US homes. According to the agreement, Nielsen will collect anonymous set-top-box data from U-Verse and DIRECTV subscribers so that it can generate more accurate TV ratings. Nielsen inked a similar deal with Dish Network (DISH) last year.
As Nielsen's ratings were based on measurements taken from just a few thousand households, they didn't provide a complete representation of television viewing habits. This data can help pay-TV providers such as Comcast (CMCSA) and AT&T enhance their content.
The chart above shows the largest US pay-TV providers according to their number of subscribers, as measured by Leichtman Research Group.
Article continues below advertisement
More relevant content for viewers
With broader data thanks to deals with AT&T and Dish, Nielsen can generate more accurate viewing measurements and enable television operators and stream video providers to offer their subscribers more relevant content. For AT&T, for instance, such insight could help it make DIRECTV NOW more appealing and competitive in the online video streaming space. In the video streaming market, AT&T competes with providers such as Dish, Netflix (NFLX), Amazon (AMZN), and Sony (SNE). More accurate TV ratings would also be useful to marketers, helping them determine where to spend their advertising budgets.
Relevant content could give DIRECTV NOW wings to fly
AT&T has zero-rated DIRECTV NOW, meaning that streaming from the platform doesn't count against AT&T subscribers' data plans. While zero-rating the service can give AT&T an edge, content has been found to play a major role in determining the success or failure of a streaming video service. Netflix, for instance, has demonstrated with its rapid growth that online video subscribers are always willing to pay a premium price for quality content. This year, Netflix is investing $6 billion to acquire quality content, including original films.