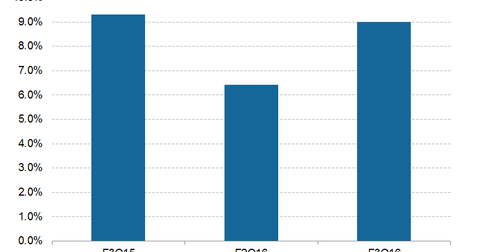 How Apple's iPhone Has Been Driving Sprint's Postpaid Upgrades
By Ambrish Shah

Updated
Sprint's postpaid upgrade rate
Apple's (AAPL) iPhone has always been a lucrative business for telecom providers such as Verizon (VZ), AT&T (T), Sprint (S) and T-Mobile (TMUS). iPhone users tend to be heavy data users. As a result, they benefit these companies. Telecom companies continue to devise attractive marketing plans surrounding the iPhone.
The national carriers offered multiple promotional plans to attract other carriers' customers. Despite these activities, Sprint managed to increase its postpaid upgrades during fiscal 3Q16 (the quarter ended December 2016). Sprint's postpaid upgrade rate dipped to 9.0% in fiscal 3Q16 from 9.3% in fiscal 3Q15, though the iPhone 7 launch in September 2016 spurred a seasonal uptick from 6.4% in fiscal 2Q16.
Article continues below advertisement
Sprint's iPhone 7 Offer
Sprint offered subscribers a free 32-GB (gigabyte) iPhone 7 in exchange for an older model, which must be fully paid off. The subscriber must stay with the carrier for 24 months to receive the full credit of the device. Additionally, Sprint is offering an 18-month lease for the iPhone 7 and traditional two-year contracts that allow customers to upgrade for as low as $199 upfront.
Sprint and T-Mobile announced that their pre-orders for iPhone 7 and iPhone 7 Plus had exceeded pre-orders for the iPhone 6 and Plus by more than four times. There was no such statement from Verizon and AT&T.
This is important progress for Sprint. It has begun to recover from years of subscriber losses with promotions such as unlimited data and 50% discounts. As a result, the company continues to make progress on subscriber acquisition and retention.