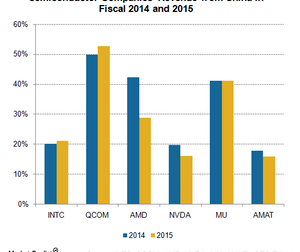 How AMD Might React to a US-China Trade Conflict
By Puja Tayal

Updated
Potential US-China trade conflict
New product launches present strong growth opportunities for Advanced Micro Devices (AMD), regardless of the overall PC market. However, the company is exposed to a potential trade conflict that could go down between the US, AMD's home country, and its key market of China (FXI).
The Trump administration has pointed out often that China, Korea, Japan, Germany, and Taiwan are using unfair trade practices with the US to achieve trade surpluses. To address this imbalance in trade, the Trump administration has promised a 45% levy on all imports from China until a negotiation is reached. In response, China could close its economy to the US imports, and that would have a major impact on the semiconductor industry (QQQ) and may even redefine the global semiconductor market.
Article continues below advertisement
Trade conflicts may redefine the world semiconductor market
China is an important market for the semiconductor industry because it consumes 58.5% of global semiconductor output, produces 16.5% of global semiconductor, and houses 25% of the global fabless semiconductor industry.
The nation has been looking to become self-sufficient in semiconductor manufacturing. To achieve this, the nation aims to grow its semiconductor industry at a CAGR (compound annual growth rate) of 20% to $143 billion annually by 2020.
A trade conflict with China would significantly impact the US semiconductor companies having large exposure in China. The x86 architecture is owned by the US companies. A trade conflict would force Chinese OEMs (other equipment manufacturers) to switch to alternate technologies such as ARM.
Impact on AMD
AMD earns 70% of its revenue from x86 products. A shift from x86 to ARM would significantly reduce AMD's revenue. AMD has higher exposure in China as compared to its rivals Intel (INTC) and Nvidia (NVDA). AMD has two joint ventures with Tianjin Haiguang Advanced Technology Investment and Nantong Fujitsu Microelectronics. It generated $500 million in revenues from these ventures in fiscal 2016.
If the Committee on Foreign Investment in the US negates these agreements due to the trade conflict, AMD would suffer a serious financial setback. This would send AMD's stock spiraling down in the short and medium term until the trade conflict is resolved.
Trench warfare?
If the trade war were to continue for a longer period, AMD could become more vulnerable to acquisition by a non-American company like Mubadala Development. After such an acquisition, the non-American company could resume AMD's exports to the Chinese market without any import levies.
But despite all these risks, AMD is still attracting investor attention, and there's no doubt right now that the company is likely to keep growing—as long as the world trade environment remains stable.