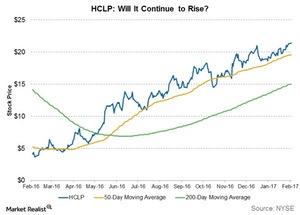 Why Hi-Crush Partners Is so Optimistic about Frac Sand Prices in 2017
Prices on the rise
Robert E. Rasmus, Chief Executive Officer of Hi-Crush Partners (HCLP), noted the following in the company's 4Q16 earnings release: "We saw pricing improve in the fourth quarter, especially late in the quarter. The pace of increases has accelerated rapidly in the first quarter."
Rasmus added: "We expect pricing improvement to continue throughout the year."
Article continues below advertisement
Rising demand
Meanwhile, Rasmus point out, "customer demand continues to strengthen and our production facilities are effectively sold out for the first quarter."
He went on to say that "We plan to operate Wyeville, Blair and Augusta near full capacity beginning as early as the second quarter, benefiting our production cost and contribution margin per ton" and that the company plans to "restart the Whitehall production facility in the second quarter," adding that the company expects "to fully utilize our existing mines, as well as the capacity of our sponsor's mine, in order to meet those demands as the cycle progresses."
HCLP's one year rise
Hi-Crush Partners stock currently trades near $21.4—more than five times its price a year ago. Peers Emerge Energy Services (EMES), Fairmount Santrol Holdings (FMSA), and U.S. Silica Holdings (SLCA) have seen similar surges driven by improved rig activity.
As the above graph shows, HCLP is currently trading 9% above its 50-day moving average and 42% above its 200-day moving average. This signals strength in the stock in the near-term.
Now let's take a look at what Wall Street analysts recommend for HCLP.