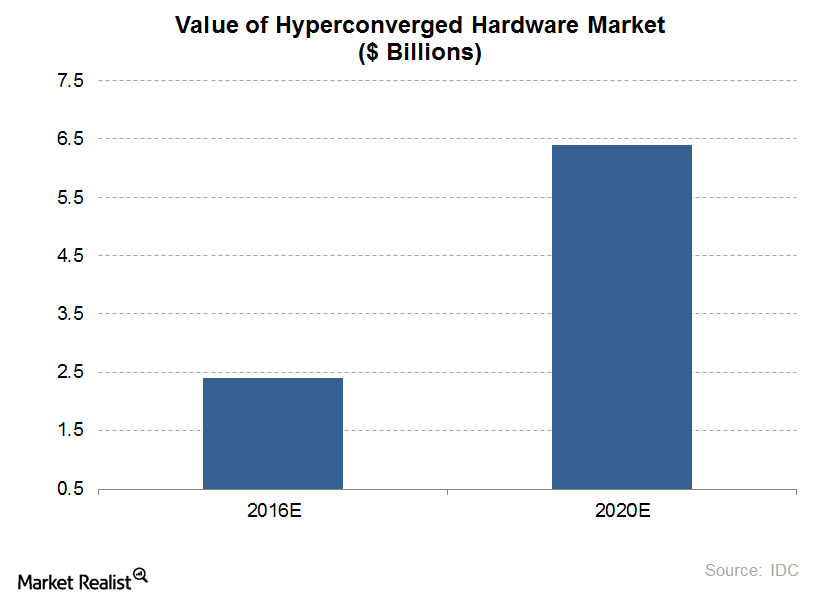 Hewlett-Packard Enterprise's Agenda for 2017
By Ruchi Gupta

Feb. 15 2017, Updated 9:07 a.m. ET
HPE taps two startups in a short span
Hewlett-Packard Enterprise (HPE) has recently acquired two startups in a span of less than a week, when it is also in the process of spinning off its software business. The company first acquired SimpliVity for $650 million, getting the hyperconverged systems startup at a discount—it was last valued at $1 billion before the deal, according to the Wall Street Journal.
Soon after announcing the acquisition of SimpliVity, Hewlett-Packard Enterprise said it was acquiring Cloud Cruiser for an undisclosed amount. Cloud Cruiser had raised ~20 million through venture financing before it agreed to sell itself.
Article continues below advertisement
SimpliVity develops a new generation of servers called hyperconverged systems that combine computing, storage, and networking capabilities in a single box. Cloud Cruiser, on the other hand, provides a cloud analytics service that enables users to monitor and control their usage and spending on computing resources delivered over the Internet.
IDC estimates that the market for hyperconverged hardware could be worth $6.4 billion in 2020, up from $2.4 billion in 2016.
A boost to HPE's hybrid IT ambitions
Although SimpliVity and Cloud Cruiser may not have much in common, their acquisition is intended to boost Hewlett-Packard Enterprise's play in the hybrid IT segment. As it separates its Software unit, Hewlett-Packard Enterprise is keen to strengthen its remaining Hardware business at a time when traditional IT vendors are disrupted by cloud computing providers such as Amazon (AMZN) and Microsoft (MSFT).
In the hyperconverged systems market, Hewlett-Packard Enterprise competes with Nutanix and Dell Technologies (DVMT). Hewlett-Packard Enterprise hopes to start selling servers integrated with SimpliVity's hyperconverged systems by 2H17.