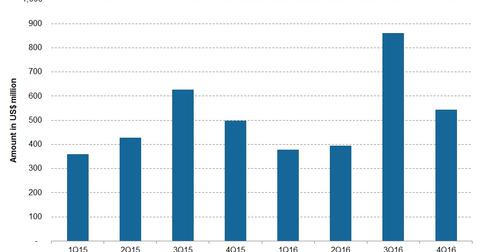 Gardasil Driving Merck & Co.'s Vaccines Business in 4Q16
By Mike Benson

Updated
Gardasil franchise
The Gardasil franchise is Merck & Co.'s (MRK) leading vaccine franchise. Gardasil is a vaccine for the prevention of certain strains of human papillomavirus (or HPV), which are sexually transmitted. The total sales for the Gardasil franchise during 4Q16 totaled $542 million, an increase of ~9% over $497 million for 4Q15.
For fiscal 2016, the sales of the Gardasil franchise totaled ~$2.2 billion, which represents 14% growth compared to ~$1.9 billion for 2015.
Article continues below advertisement
The importance of the Gardasil franchise
Gardasil is used in the prevention of certain HPV strains that are responsible for causing ~70% of all cervical cancers, as well as most HPV-induced cancers such as anal, vulvar, vaginal, and penile cancer cases, as well as genital warts.
Gardasil 9's strong performance in the US represents Merck & Co.'s strength in securing managed care access as well as the transition of patients to the 9-valent vaccine. Gardasil contributed ~5.4% of total revenues for Merck & Co. during 4Q16, which is slightly higher than its contribution in 4Q15.
Vaccines
Overall, Merck & Co.'s vaccines sales totaled ~$1.6 billion during 4Q16 compared to ~$1.5 billion during 4Q15. This growth was driven by all of the company's products, including the Gardasil franchise and Pneumovax.
ProQuad/Varivax also reported a decline of ~1% in its revenues for 4Q16 at $405 million, compared to $409 million in 4Q15. Also, sales for RotaTeq and Zostavax fell more than 4% and 10%, respectively, during 4Q16.
Merck & Co.'s Gardasil competes with GlaxoSmithKline's (GSK) Cervarix. GlaxoSmithKline has also acquired Novartis's (NVS) Vaccine business to strengthen its vaccines portfolio. Pneumovax competes with Pfizer's (PFE) blockbuster product Prevnar 13.
Investors can consider ETFs like the SPDR S&P Pharmaceuticals ETF (XPH), which holds ~4.6% of its total assets in MRK, in order to divest company-specific risk.