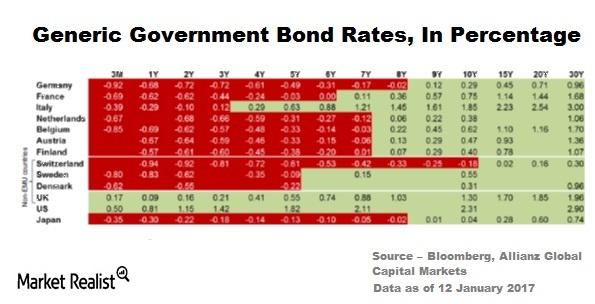 How Fundamentals Boost the Case for Emerging Market Bonds
By VanEck

Feb. 16 2017, Published 1:12 p.m. ET
VanEck
Favorable Fundamentals
Fundamentals of many emerging markets countries have stabilized and improved following the headwinds of the past few years. This post examines these favorable fundamentals.
Although many emerging markets economies have been significantly impacted in the past few years by the collapse in commodity prices, the stronger U.S. dollar, and the slowdown in Chinese economic growth, fundamentals now appear to be stabilizing and, in some cases, showing signs of improvement. In addition, the longer-term fundamental rationale for investing in emerging markets remains intact. This is perhaps best characterized by the higher economic growth that emerging markets have enjoyed versus developed markets, over several decades.
Article continues below advertisement
As a result, emerging markets today contribute approximately 39% of global gross domestic product (GDP) versus only 19% two decades ago (Source: IMF). Despite this growth, emerging markets have, on average, maintained steady and manageable debt levels through disciplined borrowing, in stark contrast to many developed countries which have seen their debt-to-GDP ratios balloon to more concerning levels.
The economic growth advantage enjoyed by emerging economies stems from several factors, including favorable demographics, growing middle classes, increased urbanization, and improving infrastructure. From a policy perspective, much of the credit goes to reforms undertaken following several emerging markets debt crises in the 1980s and 1990s.
Before the early 2000s, external debt denominated in U.S. dollars accounted for a much larger portion of emerging markets borrowing than it does today. A weaker local currency can significantly impact a country's ability to repay its external debts, which may result in capital flight as investors pull out of vulnerable markets. In order to avoid the political, social, and economic disruptions of a large and rapid devaluation, countries may deplete foreign currency reserves to defend their currencies. In some cases, however, devaluations and even defaults can inevitably occur, which can shut off a country's access to global capital markets for years and result in a lack of foreign investor confidence.
Article continues below advertisement
Market Realist
Negative rates intensified yield hunt
Negative bond yields in Japan, coupled with very low Fed funds rates in the United States and the Eurozone, were one reason that emerging market bonds (EMB) (EMAG) (IGEM) performed well in 2016. After Donald Trump won the US presidential election in November, emerging bonds (PCY) (EMLC) plummeted from record highs. The fall was due to speculation over Trump's fiscal plans, especially his protectionist policies.
As you can see in the above table, the short-term and mid-term yield curves for developing nations are lurking in negative territory. Generic government rates monitor yield changes for government benchmark bonds.
As shown in the above graph, most countries in the Eurozone (VGK) (EZU) and Japan (EWJ) are currently yielding very low or negative yields. In a high-duration, low-yield, fixed-income world, some investors think it might be a smart move to augment bond portfolios with emerging market bonds. With emerging market fundamentals expected to strengthen and with depressed yields in developed markets, more investors might step into emerging markets.
Emerging market corporate bonds or investment-grade bonds could provide higher spreads than Treasuries (TLT) (IEF) and lower risk than junk bonds (JNK) (HYG). Also, emerging market corporate debt exposes investors to developing economies, which are consistently increasing their contributions to global growth.