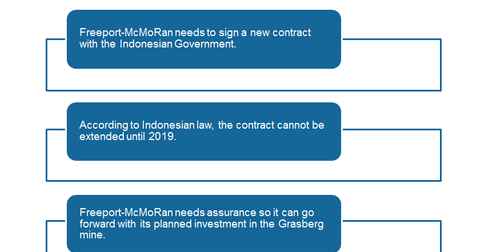 Freeport-McMoRan's Indonesian Export Permit: What You Should Know
By Mohit Oberoi, CFA

Updated
Indonesian export permit
Earlier this year, Freeport-McMoRan's (FCX) Indonesian export permit expired. The Indonesian government is revising its guidelines for the export of unprocessed ore (SCCO) (GLNCY). The new guidelines will require Freeport to convert its contract of work (or COW) into a special Indonesian operating license called an IUPK. In this part of the series, we'll see why Freeport isn't immediately opting for the IUPK.
Article continues below advertisement
Underground operations
Freeport-McMoRan and Rio Tinto (RIO)(TRQ), its partner in the Grasberg mine, are spending ~$1.0 billion per year to convert the mine to underground operations. It's only natural that it would want to be certain about the future of the project before investing large chunks of money in it.
Freeport would get benefits from these investments only in the longer term. It wants to end the uncertainty of a contract extension so it's comfortable with its investments in the Grasberg mine.
Investment stability
Freeport-McMoRan wants an "investment stability agreement" with the Indonesian government before it converts its COW to an IUPK. Richard Adkerson, FCX's chief executive officer, said during the company's 4Q16 call, "Under a license, you're subject to prevailing laws and regulations."
It's worth noting that the provincial government in Indonesia has imposed a massive water tax on Freeport. According to Freeport, the taxes aren't allowed under its existing COW. To sum it up, Freeport wants an investment stability agreement to protect its operations and investments from any future changes in Indonesian tax laws.
Meanwhile, some analysts have downgraded Freeport-McMoRan over its Grasberg issues. We'll take a closer look at that in the next part of the series.