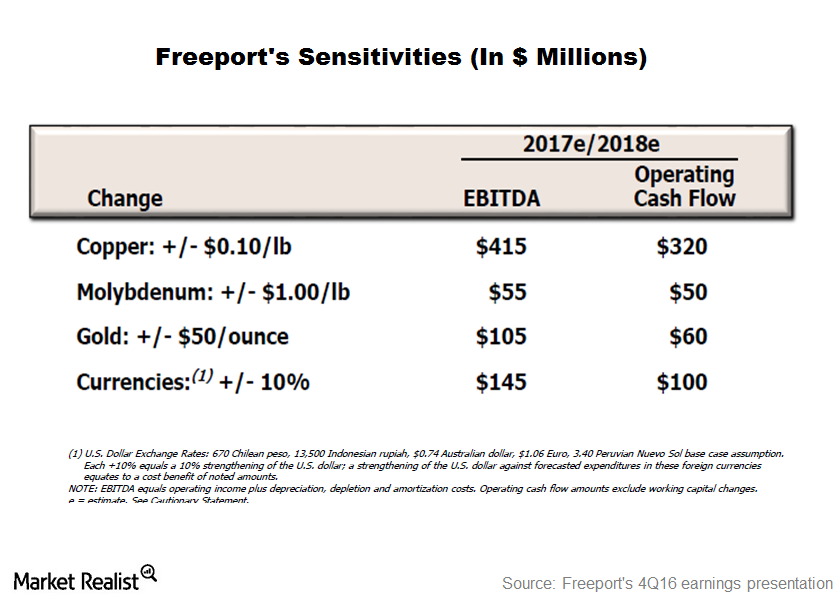 Freeport-McMoRan's 2017 Guidance: Everything You Need to Know
By Mohit Oberoi, CFA

Feb. 2 2017, Updated 10:37 a.m. ET
Freeport-McMoRan's 2017 guidance
There are several metrics you can use to measure an enterprise's profitability, but net profit is widely used. For companies in the commodities space (VALE) such as BHP Billiton (BHP), Teck Resources (TCK), and Southern Copper (SCCO), EBITDA (earnings before interest, tax, depreciation, and amortization) is generally used.
In this article, we'll look at Freeport-McMoRan's (FCX) 2016 EBITDA and the 2017 guidance provided by the company during its 4Q16 earnings call.
Article continues below advertisement
2016 EBITDA
Freeport generated adjusted EBITDAs of $1.7 billion in 4Q16 and $4.9 billion in 2016. The company generated an adjusted EBITDA of $4.4 billion in 2015, so its 2016 EBITDA was 10.5% higher compared to the previous year. Higher copper prices in 4Q16 helped Freeport's 2016 profitability.
2017 guidance
Freeport hasn't provided watertight guidance for 2017. The company expects to post adjusted EBITDA of between $5.5 billion and $7.5 billion this year if copper prices average between $2.5 and $3 per pound. Freeport has assumed gold to be $1,200 per ounce and molybdenum to be $7 per pound in arriving at this guidance.
We should remember that Freeport's earnings are sensitive to copper prices. The company expects its 2017 EBITDA to rise or fall $415 million for every $0.10-per-pound rise or fall in copper prices. Similarly, Freeport's EBITDA is expected to rise or fall $105 million for every $50-per-ounce rise or fall in gold prices.
Along with profitability metrics, it's also important to look at companies' cash flows. In the next article, we'll look at Freeport's 2017 cash flow guidance.