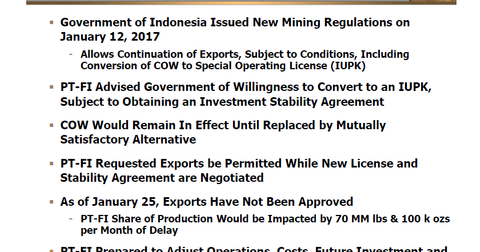 Freeport-McMoRan and Indonesia: What's the Current Issue?
By Mohit Oberoi, CFA

Feb. 15 2017, Updated 7:38 a.m. ET
The situation in Indonesia
For the last couple of years, Freeport-McMoRan (FCX) managed to export copper concentrates from Indonesia by getting short-term export permits. Earlier this year, Freeport's Indonesian export permit expired, and the company hasn't been able to export copper concentrates (SCCO) (RIO) since January 12, 2017. Now, the Indonesian government is revising its guidelines for the export of unprocessed ore.
Article continues below advertisement
New guidelines
The new guidelines would require Freeport-McMoRan to convert its contract of work (or COW) into a special operating license called an IUPK. Freeport would also need to construct a smelter in Indonesia within five years and divest 51.0% of its holdings to the Indonesian government or its citizens.
There are several points of contention between Freeport and Indonesia over the new guidelines. According to Freeport, it wants "an investment stability agreement providing equivalent rights with the same level of legal and fiscal certainty enumerated under its COW."
Stake sale
Freeport doesn't seem eager to divest 51.0% of its stake in its Indonesian operations, especially given the issues over the valuation of the operations. Previously, Freeport valued its Indonesian operations at ~$16.0 billion. It arrived at that valuation more than a year ago. Valuations for mining assets (BHP) (GLNCY) improved over this period on higher commodity prices.
Freeport-McMoRan favors a market-based valuation for its Indonesian operations. However, as the company pointed out in its 4Q16 earnings call, "Certain government officials accept the fair market value concept." The mine's valuation could change dramatically based on the fair market value concept.
So why doesn't Freeport convert its COW to a special Indonesian operating license called an IUPK? We'll look at some of the possible reasons in the next part of this series.