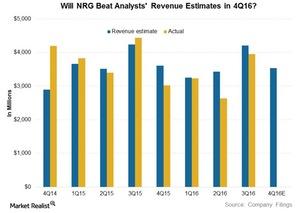 Factors that Could Drive NRG Energy's Revenues in 4Q16
NRG's 4Q16 earnings on February 28
NRG Energy (NRG), one of the largest independent power producers, is set to report its fourth quarter and 2016 full year financial results on February 28, 2017. According to analysts' estimates, NRG is expected to report total revenues of $3.5 billion for the quarter ended December 31, 2016. For 4Q15, NRG reported revenues of $3 billion.
Many merchant power producers in the US including NRG Energy have seen weakness in the past several quarters due to weaker power demand and lower wholesale power prices.
Article continues below advertisement
NRG Energy: Revenues
Favorable weather during 4Q16 may boost NRG Energy's revenues from its retail business. NRG's renewables and home retail segment can offset the merchant segment's weakness to some extent. Customer base growth during the quarter also might help NRG's performance in 4Q16.
The weakness in natural gas prices again in 2017 might have started pinching independent power producers and their investors. The recovery in gas prices in 2H16 showed the possibility of a revival in wholesale power prices. However, persistent weakness in gas prices may continue to dent power producers' margins. NRG and its peers (DYN) (CPN) experienced a severe squeeze on margins due to grounded power prices.
NRG exits the solar business
NRG Energy recently announced that it has fully exited the solar business and is going to operate it through third parties. NRG was named as the fourth largest residential solar installer in the country in 2015.