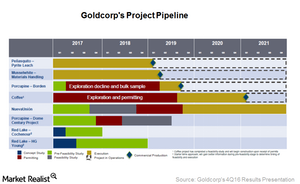 Will Exploration Provide an Upside to GG's Long-Term Production?
By Anuradha Garg

Feb. 17 2017, Updated 3:05 p.m. ET
Sustained production growth
After years of cutting back on sustained capital expenditure, gold miners started to refocus on production growth in 2016, as gold prices (GLD) remained buoyant. 
Increased exploration and capital expenditure budgets were the key themes of miners' earnings in 2016. Goldcorp (GG) provided its exploration update on February 15, 2017. Let's look at some key points from this update.
Article continues below advertisement
Positive exploration results
The following are GG's key exploration result highlights:
Drilling at Cerro Negro yielded positive results.
Positive results were obtained from the testing of the Supremiato structure at the Coffee project.
The results of the Cochenour project were as expected or better, providing further confidence to the company.
Goldcorp's senior vice-president of exploration, Paul Harbidge, said in the exploration release, "In 2017, with an exploration budget currently targeted at $100 million, we are focused on expanding and upgrading the quality of our reserves and resources through the continuation of our drill programs and the review of the results as we complete our generative study work."
Gold reserves growth
Goldcorp's objective is to increase its gold reserves 20% over the next five years. Goldcorp plans to increase its reserves from its existing portfolio. Its reserves at the end of 2016 totaled 42.3 million ounces. The company is aiming for a 20% rise to 50 million ounces net of depletion by 2021.
To achieve this, Goldcorp plans to apply rigorous geological and economic criteria to prioritize targets. It will focus on brownfield targets, which can benefit from the existing infrastructure, thereby increasing returns. The company has identified Dome Century, Pueblo Viejo, and Penasquito as the main drivers of its reserve growth.
Barrick Gold (ABX) reported a 6.5% fall in its 2016 reserves, which totaled 85 million ounces. Newmont Mining (NEM) reported a 10% fall in its reserve estimates in 2015 to 73.7 million ounces compared to 2014.
Yamana Gold (AUY) reported a massive 19% fall in its reserves in 2015 to 15.9 million ounces compared to 2014. Kinross Gold's (KGC) reserves were almost flat at 34 million ounces at the end of 2015, compared to 34.4 million ounces at the end of 2014.