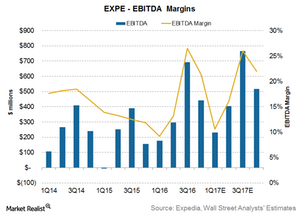 Expedia's Profitability: What to Expect in 2017
By Ally Schmidt

Updated
Expedia's 2016 performance
For 2016, Expedia's (EXPE) adjusted EBITDA (as reported by the company) rose 39% year-over-year or YoY to $1.6 billion, compared to $1.2 billion in 2015. EBITDA margins improved from 16.5% in 2015 to 18.4% in 2016.
Article continues below advertisement
Spending on HomeAway costs
One of the main reasons why Expedia missed analyst estimates on profitability was its increased investment on HomeAway. Expedia is trying to make HomeAway more competitive with Airbnb. This move included upgrading features and increased marketing activities to attract new consumers. As a result, selling and marketing expenses were up 29% YoY.
Expedia's cost of revenues also rose 22% due to increased customer operation expenses and data center costs, including the cost of acquisitions. Integration of HomeAway also required Expedia to hire additional people, resulting in Technology and content costs to rise 29% YoY.
Cloud migration
Last year, the company started moving to the cloud. This move cost the company $40 million in 2017. Costs are expected to increase to $110 million in 2017, denting profitability.
Outlook
Expedia believes that, despite the aggressive investment in HomeAway, the unit will be able to achieve the target $350 million in EBITDA in 2018. In fact, these investments will make the EBITDA target achievable.
However, the investments in HomeAway (increasing selling and marketing expenses) should add to pressure on margins. For 2017, the company expects adjusted EBITDA on a consolidated basis to grow 10%–15%.
Analysts' expect 14.4% growth in EBITDA, driven by EXPE's acquisitions. EBITDA margins are expected to remain almost flat at 18.5% in 2017, compared to 18.4% in 2016.
Priceline's (PCLN) margins are expected to increase to 39% in 2017 from 37% in 2016. TripAdvisor's (TRIP) margins are expected to fall from 24.8% in 2015 to 23.4% in 2016, and Ctrip.com's (CTRP) margins are expected to increase to 12.3% in 2017 from -6.6% in 2016.
EXPE forms ~1.6% of the holdings in the First Trust NASDAQ-100 Ex-Technology Sector ETF (QQXT).