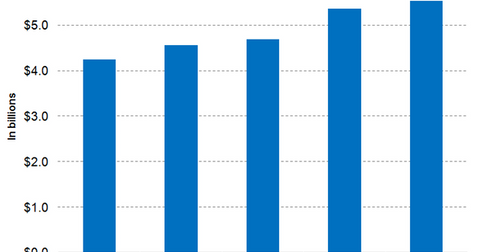 Enbrel Strengthens Its Position in Rheumatology and Dermatology Segments
By Margaret Patrick

Feb. 20 2017, Updated 7:36 a.m. ET
Enbrel trends
In 2017, Amgen (AMGN) expects to witness volume trends similar to those seen in 2016. The company also anticipates limited net selling price growth in 2017 due to competitive pressures arising from anti-tumor necrosis factor (or anti-TNF) therapies such as Johnson & Johnson's (JNJ) Remicade and AbbVie's (ABBV) Humira.
To learn more about competitive pressures for Enbrel and its impact on the drug's pricing, please read The Competitive Landscape for Enbrel.
Article continues below advertisement
Revenue trends
In 2016, Enbrel's sales totaled ~$5.5 billion, which is a year-over-year (or YoY) rise of around 3.2%.
If Novartis (NVS) is able to launch its biosimilar Erelzi in the US, it may have a negative impact on Enbrel's revenues in 2017, affecting Amgen stock and the iShares Core S&P 500 ETF (IVV). Amgen comprises ~0.63% of IVV's total portfolio holdings.
To learn more about biosimilar competition for Enbrel, please refer to When Will the Biosimilar for Enbrel Be Available?
Label expansion
Amgen has been actively involved in increasing the number of approved indications as well as delivery systems for Enbrel. These efforts aim to boost the drug's revenues while further improving overall patient compliance rates.
On November 4, 2016, Enbrel was approved by the FDA as a therapy for pediatric patients with moderate to severe plaque psoriasis. This development highlights the drug's safety profile, as the presence of limited adverse events is an important consideration for regulatory approval of pediatric drugs.
In the next article, we'll discuss Amgen's oncology drugs, Neupogen and Neulasta, in greater detail.