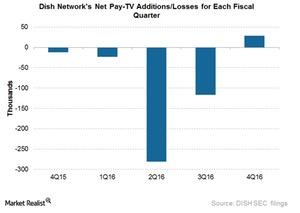 Dish Network and Possible Consolidation in the Wireless Industry
Could Dish be acquired this year?
Last month, T-Mobile's (TMUS) president and CEO (chief executive officer) John Legere announced his predictions for 2017 in a blog post on the T-Mobile website. He said that considering Dish Network's (DISH) falling pay-TV subscriber base and the company's spectrum holdings, Dish could be acquired this year. He also believes that Dish is already past the time frame for entering the wireless business.
In 2015, Dish was in possible merger discussions with T-Mobile (TMUS). However, the talks were canceled after the FCC (Federal Communications Commission) rejected Dish's claim of a discount of $3.3 billion when it came to the AWS-3 (advanced wireless services 3) spectrum auction.
Dish was asked at the company's fiscal 2016 earnings call whether it expected any M&A (merger and acquisition) activity in the wireless industry this year. It said that since building a network was expensive, it was reasonable for a company to try to reduce its buildout costs through M&A activity.
The company also believes the Trump administration's policies could possibly be favorable for M&A activity in the wireless industry.
Article continues below advertisement
Dish's pay-TV subscriber base
As you can see in the above graph, Dish Network's pay-TV subscriber base has been falling steadily for the past five quarters. As it faces increasing competition from OTT (over-the-top) operators such as Netflix (NFLX), it struggles to gain new subscribers. However, in fiscal 4Q16, Dish had a subscriber gain of 28,000 subscribers and ended fiscal 4Q16 with 13.6 million pay-TV subscribers.