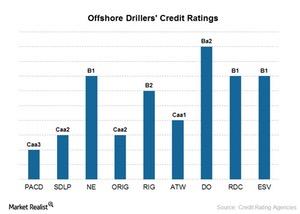 Diamond Offshore's Views on Issuing Equity and Debt Buyback
By Sue Goodridge

Updated
Leverage
During this downturn, it's very important to determine whether Diamond Offshore Drilling (DO) is in a position to pay off its short-term and long-term debt with its operational cash flow. A company failing to do so has a higher chance of declaring bankruptcy.
Leverage magnifies risk in a sluggish market. We'll examine Diamond Offshore's financial health by looking at its net debt-to-EBITDA (earnings before interest, tax, depreciation, and amortization) and liquidity ratios.
Article continues below advertisement
Debt
As of December 31, 2016, Diamond Offshore had long-term debt of $1.98 billion, compared with $1.97 billion a year prior. The company has cash-in-hand of $156 million.
Diamond Offshore's views
In its fourth-quarter conference call, Diamond Offshore gave its views on its financial health. The company stated that "we are comfortable with our balance sheet and liquidity and do not see a need at this time to raise additional equity." Diamond Offshore's immediate debt of $500 million will mature in 2Q19. According to the company, these bonds are currently trading at par to a premium. The company also stated that "we will continue to monitor the debt markets and interest rate dynamics as we navigate this downturn. But for the foreseeable future, we believe we have ample liquidity from cash and our currently undrawn revolver, which is in place through October 2020."
Credit rating
One major factor credit rating agencies focus on is the ability to repay. Comparatively, Diamond Offshore has a sound financial position and credit rating agencies have given it the highest rating among offshore drillers (IYE). Diamond Offshore has a credit rating of "Ba2," which means that it's slightly below investment grade. Two notches below "Ba2" is the "Ba1" rating, which has been assigned to Ensco (ESV), Rowan Companies (RDC), and Noble (NE).