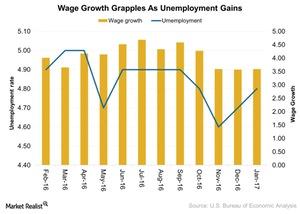 Could Wage Growth Improve as Employment Picks Up?
Most labor market indicators point to nearly full employment
The US economy is swiftly adding jobs, with the latest addition of 227,000 jobs in January 2017. This recent addition beat market expectations of 175,000. Economic growth has a positive and significant impact on employment growth, which is considered a lagging indicator.
As the economy gains strength, the positive effects of job growth could take some time to take root. The combination of economic growth and employment persistence also helps wage growth.
Article continues below advertisement
Sluggish wage growth in 2017
Wage growth moved more slowly than estimates, suggesting some slack in the labor market. Wage growth in the United States is expected to be ~3.6% by the end of 1Q17. Wage growth is an important macroeconomic indicator, as it affects consumer spending (XRT) (XLP).
US employers added more workers in January, compared with September 2016. The addition of 227,000 workers in January beat expectations. The unemployment rate was 4.8%—0.2% higher than the lowest point during the last year.
Employment
The level of unemployment rose slightly in January 2017 and is still considered steady. However, wage gains continue to lag, rising only 0.1% in January 2017. The wage growth in January 2017 seems to have washed away the encouraging jump of 4.8% in January 2016.
Employment increased in the retail trade, construction, and financial sectors in January 2017. Companies in these sectors include GAP (GPS), Macy's (M), Wells Fargo (WFC), and Quanta Services (PWR).
According to Goldman Sachs's Jan Hatzius, even if the wages grow at a slower pace, they should eventually catch up with economic growth. Soft investments in R&D and education should help the Trump administration improve the country's labor productivity.
Next, let's look at the impact of the Trump administration's fiscal policy decisions on global growth.