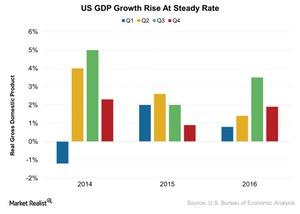 Could the US Recover from Low Growth in 2017?
By Mary Sadler

Feb. 9 2017, Updated 7:38 a.m. ET
Momentum in economic activity could support economic growth
On February 3, Jan Hatzius, the chief economist at Goldman Sachs, shared his views on President Donald Trump's policy decisions and the economy on CNBC's Squawk on the Street. Hatzius discussed momentum in economic activity, which accelerated in the second half of 2016. He also discussed some of Trump's policy decisions and their impact on the economy.
Article continues below advertisement
Macroeconomic factors that helped economic growth in 2016
The US economy (SPY) (QQQ) gained momentum in 3Q16. Real GDP increased at an annual rate of 1.9% in 4Q16, according to the estimate released by the Bureau of Economic Analysis. The fourth quarter of 2016 grew at a slower pace compared to 3Q16's real GDP of 3.5%.
Exports dragged growth down, reversing the jump in soya bean shipments in 3Q16. Consumer spending and consumer sentiment have driven the country's growth in the last three years. Let's look at the macroeconomic factors that improved economic growth in 4Q16:
There were positive contributions of ~1.7% from personal consumption expenditures in December.
Fixed investment provided nearly 0.67% to economic growth.
Non-residential fixed investment and local government spending partly offset negative contributions from exports and weak federal government spending.
According to Hatzius, the outlook for 2017 and 2018 is better than the pre-election period due to interest rate hike expectations and the proposed fiscal stimulus. Following the 2008 financial crisis, 2015 became the first full year with sustained economic growth, as you can see in the chart above.
In 2017, greater investment in infrastructure and defense are likely to provide a boost to companies in these sectors, including Boeing (BA), Honeywell International (HON), Lockheed Martin (LMT), and Smith & Wesson (AOBC).
Hatzius believes that Trump's pro-growth policy decisions should outweigh any impact from protectionism in 2017. This low growth is likely to pick up with increased economic activity, as experienced in the two last quarters of 2016.
Let's look at the impact of economic growth on jobs and wage growth in our next article.